My Figo & I!
Hi Everyone! I wrote a poem on my Figo. It will tell you exactly how I feel about it. I?ve been wanting this car for a while, It?s got attitude, it?s got style. It?s got the best value for money, It?s got everything, that you want honey. The purr of the engine, the hum of the a/c, The bluetooth system, makes me go crazy. Attending calls on my mobile phone, Look Ma, no hands, how your son has grown There?s space inside for the whole family, My parents, my wife, my children & me. You could set camp in the boot behind, The maximum space in any hatchback you?ll find The auto rear view mirrors, the remote car key, Engine immobiliser, ensure complete safety When I fill up the tank, I?m all smiles, No need to worry, for the next thousand miles Wherever we go, we go as one, My Figo & I, we have so much fun Shankar Go for this car if you are looking for value for money, lots of legroom, boot space, if you are very keen about your mileage(diesel)& dont mind the looks.
Write your Comment on Ford Figo 2012-2015
1
n
neerja
Aug 4, 2010 10:58:52 PM
Excellent Poem !!!!
Reply
1
M
mani
Aug 4, 2010 10:42:04 PM
Engine immobiliser can save the car from theft. But poor headlights are not safer for our lives. That too, when it is raining, the driver may not be able to decide wether the headlamps are burning or not.The headlamps, which are very poor, only can decide the traveller's fate.The headlamps are very poor in Ford figo.I am one of the sufferer.
Reply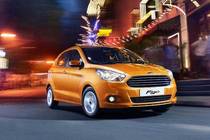 This car model has expired