millage
I would like to go for ford figo diesel could some tell me what millage will get
Write your Comment on Ford Figo 2012-2015
1
V
vikas kumar
Mar 8, 2012 9:55:22 AM
I am also heard from my friends the same that the maintenance cost for Ford Figo is high. I am also planning to buy a Diesel Car. Someone telling me that Beat Diesel is also a good car but I am afraid about the power of Diesel Engine i.e it is fitted with only 1000 c.c. engine.
Reply
1
s
sriram srinivasan
Jul 25, 2010 2:12:33 PM
sir.generally ford cars after sales service seems to be very costly. infact, have the ford company looked into this aspect in specific while launching ford fugo is the point of deliberation. every time ford car goes for servicing it comes back with a bill that is thrice the amount as compared to the cars of same mileage and depreciation like swift and tata's dicor. this especially concerns me if it is diesel. can the owners of fugo give their version and share their experience. looking forward to hearing from the owners of ford fugo esopecially their after sales service cost. gudday.sri
Reply
1
c
chetan
Jul 20, 2010 7:58:12 PM
This is the one Car I would love to own!!! Very nice features!!!! And small in size.
Reply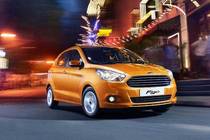 This car model has expired