Huge Safety Flaw in all FORD CARS - Worst Car,
FORD INDIA - This could happen to FORD cars around the world - Be very careful before you buy a FORD !! HUGE SAFETY FLAW - DO NOT BUY ANY FORD CARS - EXCEPT THE OLD IKON - I owner of a Ford Figo since Aug 2011 (but this fault exsist in all the Ford Cars - including endevour / fiesta / classic except the old IKON), I have complaint about many things in the past none of the issues were ever solved.. I even did not want to visit ford service center, but ford chennai made me visit the workshop, ever since I have been to work shop like 40 times, and none of the problems were solved. NOW I have found a major FAULT in the safety of the CAR, and I reported this 6 months back but no action was taken, the issue is the design of the drive and passenger front seat railing system which wont lock all the time - 1 out of 20 times the lock will slip... no matter what you do, they told me to read the manual how to lock the car seat which is silly I am driving cars for past 20 years, and i dont need to learn how to lock. even if i followed the instructions it wud not happen. and when the seat slips right back and you are in motion you are bound to have a major accident, as your legs wont reach the brake.. or you might slip all the front and push the accelerator too much to crash in high speed ahead of you. This is inevitable as I just got a BRAND new SEAT replaced today and this seat wont lock at all - it needs to be jerked - ahead and back for 10 seconds - then it locks from the left 1st and right later. and I cant ask FORD any more.. I have a video which proves that the jerks might just not work sometimes and that some time could be a killer time for you and your family. FORD India cant do anything since this is the design at fault. Ford India even called me and just confirmed with me that if my car had AirBags, this means they know the problem exist and could lead to major accidents. - Next time a person dies in FORD dont blame the drive - blame the company for faulty slipping seat. BAD Mileage: Joint Average test revealed - 8km/lt, which has not dropped to 6.1/km with A/c in normal condition - non traffic hour driving. They took an average test on their own in Jan and told me 13 km/lt which i dont believe ! So i guess they dont believe in their own staff who conducted the 1st joint average test of 55km around 2pm which is totally zero traffic time. I was promised in the SALES pitch 14 to 16 kmpl in city with A/c.
Write your Comment on Ford Figo 2012-2015
1
a
ansan
May 16, 2014 7:32:49 PM
please do not write down such foolish reviews
Reply
1
s
sajit
Sep 10, 2013 9:45:44 PM
Figo gives a steady mileage of 20 Kms with ac for me for the past 5000kms. Probably this guy is d...k and does not use clutch and gear properly.
Reply
1
s
sajit
Sep 10, 2013 9:41:58 PM
This guy must be drinking all the time he gets into a car. I hav driven Figo for more than 5000Kms and have no issues. How can you say that the worlds 3rd largest auto company and the first CAR MANUFACTURER in the world doesn't know how to fix a seat? Ha ha ha..I can only laugh over this.
Reply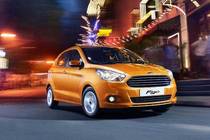 This car model has expired