Good Pickup and bad body and Bumper
Look and Style : Good Comfort : Average Pickup : Very good Mileage : Average 17 KM Best Features : Space and pickup and front view Needs to improve : Front side body & Bumper Area of Maruti 800 is better than the Figo Overall Experience : Good Pickup and Space but Scared of safety due to bad front body
Write your Comment on Ford Figo 2012-2015
1
D
dr.dharmendra jain
Mar 27, 2011 9:05:40 PM
Ford figo is good car with spacious sitting arrangment. Ford car has got problem in the pickup of the vehicle. iT IS VERY DIFFICULT TO GET SERVICES IN THE INTERIOR PARTS OF MAHARASHTRA LIKE AKOLA, JALGAON AND DHULE. SO IT BECOMES DIFFICULT OR WORRYSOME TO GET SERVICE DONE IN TIME. AND A T THE SAME TIME WE LOVE TO BUY TIS CAR.We expect that company should consider to increase service stations in the peripheral parts of maharashtra to encaourage the buyers and loveers of this car/ thanks a lot.
Reply
1
R
raj
Mar 16, 2011 12:49:00 AM
My friend bought Figo few months ago and met with an accident. Figo got hit in the front and nothing happened to driver! Infact, because of the awesome high sensitive brake system in Figo he escaped. So with your little knowledge on Cars, don't talk about safety on Figo! Figo rocks! whoever sees this review, don't decide on these reviews!! please test drive and then decide = testdrivefordfigo.com
Reply
1
t
tom
Jan 31, 2011 6:28:19 PM
the figo has got a good crash test rating! so if you feel the bumpers are like 'toys' then pls buy a tank!!! maruti has no nacp rating!
Reply
2
t
tom
Jan 31, 2011 6:28:59 PM
maruti 800.
Reply
3
r
reji george
Jan 31, 2011 8:26:40 PM
Yes, I feel noise from Engine which will be equal to the noise of tank! Are you a fan of Ford only?
Reply
4
t
tom
Feb 22, 2011 10:37:15 PM
mr reji have you ever heard a tanks engine on? you can hear it from 100rs of meters! i am not a fan of ford just commenting bcoz i have a figo. i do like some maruti cars like the ritz and the swift. its just that the reviewer was giving some crap on the body being like a toy! and he was scared of his safety bcoz of the bumpers.if he is going to crash head on at 150km/hr den his safety will be compromised in any car of this segment1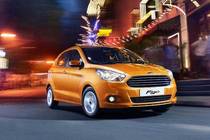 This car model has expired