GOOD
Please have me Quotation for Ford Figo on my email.
Write your Comment on Ford Figo 2012-2015
1
b
bhisham
Apr 21, 2010 10:15:26 AM
i am very happy to buy fego and i go throught about the featurs and i think its value for money because in this price range this is the best in class but i have a question about after sell services of ford .... plz tell me on my email if you know plz....
Reply
1
j
japneet singh
Apr 10, 2010 4:35:42 AM
sir, i want to buy a car my budget is between 400000-420000...... plz suggest me a good car ...............plz tell me which will be the better choise swift lxi.....or ford figo exi.........
Reply
1
R
rajesh
Apr 9, 2010 1:37:32 PM
If you need any type of information, you may go for auto car sites, which you have submitted your review. Other than the OEM's will give a quotation about the car.
Reply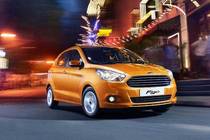 This car model has expired