Ford Figo v/s Volkswagen Polo
I am planning to buy a new premium class smart car models in India. I have already choose between Ford Figo and Volkswagen polo. Figo has latest car compare to its other Polo vehicle. I have got a some information about Ford Figo is better than Volkswagen Polo according to Accleration. Volkswagen Polo accleration lower than Ford Figo. On of other comparison in both cars are following by the maximum power Polo's power much more to the Ford Figo, it said by the auto car site. I was reading some other reviews in Volkswagen Polo tht its lower accleration delivers good power in the undan ways. Ford Figo is better to all features and also some elements. But I think, Volkswagen Polo will going well in the market more than other premium segment cars in Indian auto market. According to comfortableness that both should be given a good space in Interior the view.
Write your Comment on Ford Figo 2012-2015
1
A
akshay
Jun 26, 2013 4:28:19 PM
You cannot actually compare polo and figo....i hav both....polo is definitely a class apart...much better build quality....it definitely is pricy...but worth it....figo is a very good vehicle too...VFM is the best factor about Figo...but please go 4 diesel...petrol Figo is not very efficient...
Reply
1
K
k.natarajan
Jun 17, 2012 10:20:02 PM
is volks wagen polo a good car?
Reply
1
v
varma
Mar 28, 2012 5:07:42 PM
hi...FRIENDS...EVERY ONE IS START DISCUSSING ABUT THE MILLEAGE..ENGINE..VALUES...COMFORT...BLA..BLA...BUT DOES ANY ONE COMPARED ABUT THE SAFTEY..INDIAN ROADS...ARE NOT MEANT TO DRIVE WITH BASIC FEATURES OF ANY CAR.WHEN YOU COMPARE THE SAME BRAND IN ABROAD..THE PRICE WILL BE HIGH..& THE SALES WILL NOT BE THAT MUCH...BUT WITH WITH SAME BRAND..IF THEY HAVE COME OUT WITH BASIC FEATURES EXCLUDING THE SAFTEY..PART..THE PRICE FOR MANUAFCTURING WILL BE VARY NEAR ABUT 10-15%(20%) IS TRUE..BELIEVE IT OR NOT...AND YOU KNOW ONE THING IN ABROAD WITH OUT THE STANDARD SAFTEY FEATURES LIKE AIR BAGS (PARTICULAR) ANY BRAND CAR WILL NOT BE RELEASED INTO MARKET..!!! AND HERE..EVERYONE IS CONCENTARTING ABUT THE MILAGE..& MUSIC SYSTEMS..MY SINCERE REQUEUST TO ALL THE OWNERS & PEOPLE GOING TO BUY THE CARS...PLEASE..PLEASE..PLEASE..BUY A CAR WITH MINIUM SAFTEY..FEATURES..THAT TOO AIR BAGS AS MANDATORY........HOW MUCH IT COST SPENTING LAKS ON BUYING ONE CAR ,,CAN'T YOU AFORD A FEW THOUSANDS....... DO REMEMBER ONE..YOU ARE BUYING CAR..NOT A BIKE ..SOTHAT ALONE CAN DRIVE..YOU ARE BUYING THE CAR..AND YOUR CARING YOUR FAMILY & TRAVELLING ALONG WITH THEM..IF SOME THING GOES WRONG..THEN..SO ALWAYS GO FOR THE SAFTEY FEATURES FIRST..COMMING TO THE FIGO WITH SAME PRICE TAG..MINIMUM SAFTEY FEATURES LIKE AIR BAGS ARE COMMING WHEN COMPARED TO POLO WITH A HIGHER PRICE..AND ON LONG MAINTENANCE FIGO BODY IS NOT THAT MUCH QUALITY STANDARDS MAINTAINED..RUSTING AT THE JOINTS & WELD PARTS..POOR EXTERIOR PLASTIC..AND SO ON...!
Reply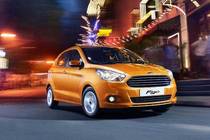 This car model has expired