Ford Figo or Beat
I am really getting confused between Beat and Figo.For both Cars I have seen Positive and negative reviews on this site. Looking to looks and height of car I like Beat while looking to width of rear seat and luggage space and brand name I like Figo. As far as milage is concerned there is no correct feedback. I really needs feedback who are OWNING CAR(BEAT OR FIGO). Please help me to take decision.
Write your Comment on Ford Figo 2012-2015
1
V
vivek
Mar 22, 2012 11:17:08 PM
hey .. for all those who think ford spares are costly.. here is one news for u ppl... ford has adopted new strategy to reduce cost of spares..In its effort to reduce ownership costs, Ford has adopted the child parts approach. To give you an example of the child parts approach, if the solenoid of your starter fails, you do NOT need to change the entire starter assembly. Rather, Ford will sell you only the solenoid assembly (which will, of course, cost only a fraction of that for the entire starter). also its well evident that ford has increased the number of dealerships in many indian cities.. go u can surely opt for ford to enjoy best driving and world class technology... cheers !!
Reply
1
D
deepika chhetri
Mar 2, 2012 5:11:58 PM
Hi Ford Figo Titanium Petrol Users.... I am planning to buy Ford Figo Titanium Petrol. Please suggest me or guide me with your experience with Ford Figo Titanium Petrol. I am not going for Diesel one because daily running of my car is not fixed. i might use it twice in a week and once in a 3 months for long tour from Guwahati to Siliguri. Please give your comments... Regards Deepika
Reply
1
R
ramesh
Dec 14, 2011 2:48:39 PM
Hi guys/Car Dekho team , I am planning to book a new car on this friday(Chennai).I am little confused between Beat LS and Figo EXI.My budget is 5L - 5.5L and i expect a good mileage and good service.Looks and interiors are not essential according to me. Can Figo/Beat suggest me as early as possible based on u r experinece.
Reply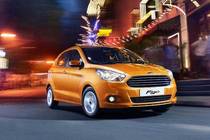 This car model has expired