Ford Figo is value for money
I went at Ford auto showroom in New Delhi. Ford has recently launched Ford Figo specious model in the market. Its price and also feature quality is overall better. Ford Figo is performing wonderful in the Indian roads. One of the most auto company, which is producing a excellent models in the country. Other some models are coming from Ford Motors in India. Earlier, I had reached at ford motors for buy a new Ford Fiesta diesel model. It was also good for purchase but my father declined for purchase this one. I have also heard about Ford Fiesta performance, is not well. After happened this incidence, I didn't like Ford manufactured vehicles but after the launched its Ford Figo model. I really believes that its such a wonderful auto company. This model is coming with advanced features quality in low price tag. After that I have cleared that Ford Figo is value for money car.
Write your Comment on Ford Figo 2012-2015
1
a
ankit
Dec 27, 2010 5:38:28 PM
dude its about 12 to 13 in city
Reply
1
m
mohit kumar
Oct 16, 2010 10:09:45 AM
Can anyone tell me the mileage of FORD FIGO ZXI(Petrol) on highway and city. I am worried about its average.
Reply
1
K
kk mohanan
May 18, 2010 6:46:43 PM
I took delivery of a Ford Figo EXI 1.2L petrol car on 3 May 2010 from Harpreet Ford Gurgaon and paid over Rs 4.18 lacs (on road price including accessories, wax finish etc). They did not have mud flap in stock at the time of delivery and promised to fit the same within 2 to 3 days. I had since then been contacting them to receive repeated replies that the item is in short supply from Ford India and therefore I wrote to Customer Care (Ms Parimala) at Ford India, Chennai. Other than a standard stereo type reply from the company, I have not heard anything from them either. I plan to file a complaint against the dealer and the company and also write my grievances online. Can anyone tell me on which platform or site I can register my grievance so that customers are aware of the pathetic after sales service provided by the company. Please write to me at kk.mohanan@lml.co.in. Thanks.
Reply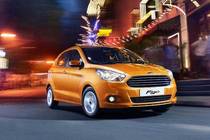 This car model has expired