ford figo comp to ritz and polo
Look and Style figo is way ahead of ritz and polo,ford is new age vehicle,as you sit to drive the panel is very impressive ,seamless,plastic quality good,finish excellent,looks imperial,whereas ritz appears outdated,all maruti crs look the same from inside,polo is just too costly with hardly any features.rear seats have ample leg room in figo and polo,whereas ritz is a bit crammed up,outside look of the vehicle is very impressive and the cars build quality is heavy,you can feel as you shut the door that the build quality is comparable to polo and far superior to the desi ritz. Comfort driving seat is snugly very comfy,feels like a sedan ,there are no power windows at rear ,should have been ,handle grip and maneuverability are good Pickup i drove in lot of traffic ,but as far as i can compare,i regularly drive swift vxi,it was better,much better,withac on ther was no load on the vehicle Mileage 20 km/litre,disel ,i find it pretty good< Best Features modern looks,stereo,defogger,dual tone interion @5.7 thats good Needs to improve remove plastic from engine. Overall Experience wonderful
Write your Comment on Ford Figo 2012-2015
1
P
prince
Jul 9, 2011 11:42:00 PM
Can someone comment on the service/spare charges at ford dealers? Is it same like Fiesta?
Reply
1
A
asad
Jun 14, 2011 12:23:20 AM
I am planing to buy a car upto 6 lack is figo best choice
Reply
1
n
naveen
May 24, 2011 2:20:35 PM
guyz u can never come figo with ritz ..figo is in a league of it own ..its so spacious and heaven for rear passengers...figo is so solid and safe at high speeds ..i personally clocked 160 and the fuel economy of my baby dise l is great around 15 for city 19 for highway but baby is just 2 weeks old ...fuel economy will improve after first service as with any veichel...comin to handling n comfort its wonderful ..its a drivers car and u will love in love once u drive this baby ...low and mid range acceleration is vry good ...and for all this wat u pay very less ....so pls dont compare with ritz ..its a shame .
Reply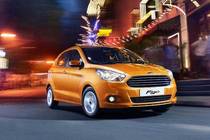 This car model has expired