FORD FIGO: A smart package by Ford
I finally had my Ford Figo delivered on 25th March'2010. I chose Colorado Red, as the color has an excellent metallic finish to it. I opted for Petrol variant and am extremely satisfied with the fuel efficiency its providing, as I made a trip to Massourie and the car gave me an average mileage of 15.5kmpl on highway with AC. Its a complete family car and perfect for metro city driving. The five speed manual transmission and power steering certainly makes the drive pleasurable. If you enjoy driving, Ford Figo is an excellent value for money option in terms of comfort and smooth drive. My Petrol variant has come with an array of advanced safety features like Dual Front Airbags that offers safety in case of front collision, ABS (Antilock Brake System) with EBD (Electronic Brake-Force Distribution) that enhance the stability of the car and provides more comfortable driving experience. Also, can't restrain to mention the stylish, eye-catching fabric, equipment and seating arrangement. The driver seat is absolutely adjustable and the dashboard comes with advanced stereo and instrument panel. The car offers good leg-space and is immensely comfortable for 5-6 adults. Truly, Ford Figo is one of the best creation from the Ford designers, with features like Full Wheel Covers, Front Power Windows, Remote Trunk Open, Fabric Insert on Door Trims, Passenger Vanity Mirror on Sun Visor, Removable Parcel Tray, Music System, Central Locking, Keyless Entry and Engine Immobilizer. If the tag-line says Feel the difference I certainly did!!!
Write your Comment on Ford Figo 2012-2015
1
p
puneetbzbdhsjdjjdjddjjdjdjdjdjdkdkxkxjxkxjdjdjjdjdjdjwkak sjejnsnd
Nov 25, 2014 2:51:30 PM
Hxjjxjxjjsjsjsjsjs
Reply
1
D
deepika chhetri
Mar 2, 2012 5:15:38 PM
Hi Ford Figo Titanium Petrol Users.... I am planning to buy Ford Figo Titanium Petrol. Please suggest me or guide me with your experience with Ford Figo Titanium Petrol. I am not going for Diesel one because daily running of my car is not fixed. i might use it twice in a week and once in a 3 months for long tour from Guwahati to Siliguri. Please give your comments... Regards Deepika
Reply
1
g
gourav
Dec 23, 2011 8:37:44 PM
Ford figo is really nice car,I have ford figo diesel ,initially its mileage was around 14-15 kmpl but after first and second servicing its giving 18-20 kmpl on highway and around 16 kmpl in city ,once even I have driven more then 140 kmph for around 400 km with 5 persons sitting and full AC on it gave excelent mileage of 16 kmpl.
Reply
2
D
deepika chhetri
Mar 2, 2012 5:17:19 PM
waw that sounds cool.. but iam planning for petrol titanium as per usage...
Reply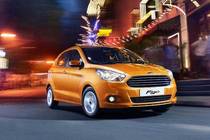 This car model has expired