Figo - poor quality plastic bumper
Look and Style OK Comfort OK Pickup OK Mileage 16 Best Features Blue tooth on music system Needs to improve Bumper Overall Experience I was thinking that Ford Figo is a great car until recently. Last week, while parking, front bumper of the car very slowly touched the foot path. Amazingly, the bumper broke into two from top to bottom. Looks like, they are using some cheap plastic for making the bumper. Most vulnerable part of a car is its Bumper. Never experienced like this with other cars.
Write your Comment on Ford Figo 2012-2015
1
i
ishaan
May 16, 2012 1:05:12 PM
majority of ford figos i have seen r wth dent. is it due to poor body material or otherwise? can anybody explain this plz?
Reply
1
F
ford figo
Apr 22, 2012 2:50:47 AM
What was the cost of front bumper replacement?? Can you tell the price??
Reply
1
d
dina lal chhetri
Mar 30, 2012 12:35:44 PM
hallo sir, comments mein dikhya gay ki poor quality plastic bumper,,,,yeh suggestion dur hua ya abhi tak jo ford aa rahi hai,,,sab POOR QUALITY OF PLASTIC BUMPER HAI,,,,,,,,,,,,,,,,,,,,,,,,,,,,,,,,,,,,,,,,,,
Reply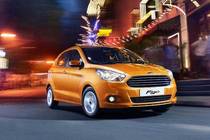 This car model has expired