Excelent car: Deserver
Look and Style: Awesome Comfort: Excelent Mileage : Good Overall Experience I have an Swift. I like it very much. I had to go for deisel vehicel. Here my Research started for a good car from my hard earned money. After a period of 6 months zeroed it on to the Car of the year FORD FIGO. I have chosen the Right Horse for Comfort ride. My research starts here, Ofcourse Micra deisel and VOlksvagen deisel are more excelent then figo but the Price range is a factor which atleast I dont prefer to shell out...... Figo is Value for money. With an excellent boot space and amazing handling even in high speeds and in city traffic makes me feel sitting on brand sofa seat at home with AC ON. I felt the road grip is too good on highways. However I have not calculated the mileage yet. As i did only 650KM till now. As the company claims the spare parts are also cheaper compared to other ford cars like Icon, fiesta. They also claim its cheaper than maruti brand. I had a choice to go for swift deisel but after a detail research i opted for figo diesel. Suspension is awesome. small patholes on road are beautifully managed. Pickup in 2nd gear is low, but over all excelent power. back rear window is not powered. This can be considered as designe failure rather than to say a safety feature. But its negligible as with the great mileage of 18 KMPL as said by so many Users. There is no need to get the window down. I always drive with AC ON. One more which i usually read for the figo body touching in the Road humps or speed brakers is not true. I have driven the car with full capacity say 6 people and a child. It did not touch any hump or speed braker. I have no idea whether ford has rectified it before i got the vehicle. I can say it a Miracle. :) Over all i am satisfied with the vehicle. If any body is in mind of choosing between ford figo and rivals certeanly 3 or 4. I would recommand go for ford figo. As i was also in the same state of mind before buying. when i was doing a research for which vehicle to buy.
Write your Comment on Ford Figo 2012-2015
1
v
vikas kumar
Mar 8, 2012 9:44:39 AM
I am also planing to buy a Diesel Car after three months. My budget is matching with the price of EXI model of Ford Figo and also I like the look and design of this car. But I am afraid about the maintenance cost of Ford Figo as my friends telling me that the maintenance cost of ford figo is high. The above comments seems managed. Maruti Swift Diesel car is no doubt a good car but I does not like its look and design. Any one can help me about the selection of best diesel car in the range of Rs.5.25 lacs?
Reply
1
R
richa
May 17, 2011 6:04:12 PM
I am looking for a Diesel car and Ford Figo is one of the options.Other being Swift,Beat,i10. I have gone through a lot of review,and at the end I am totally confused because some are too good and on the other hand others are so discouraging.I really like the car and want ur opinion on the same. Some say that Ford's spare parts are of poor quality and require very frequent replacement.I read a review of a person who had some other car of Ford and he wrote that u should go for Ford if u plan to use the car only for 4 yrs.What u have to say about that?
Reply
1
P
prafulla mahanta
Apr 13, 2011 12:27:33 PM
Yaa...i thinking of buying the Ford Figo...
Reply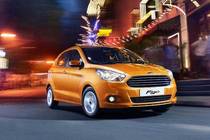 This car model has expired