dealer not customer caring
Priyadarshi ford, patna--the dealer in Bihar charges more amount than the amount shown on its receipt.amazing & disgusting.
Write your Comment on Ford Figo 2012-2015
1
a
ashok
Sep 20, 2010 4:23:32 PM
the priyadarshi ford charges Rs.5000/- extra(without receipt) in Reg.&Misc. charges.On complain , even G.M.can't satisfy.Not only this, the Ford India is also silent on the complain.I agree with Mr. d.r. sinha.
Reply
1
d
drlnsinha
Sep 19, 2010 10:39:21 PM
i took delivery of ford figo zxi on same dealer at patna.ur experience is acceptable.i had problem with office staff not the vehicle,they insured wrong model and rate of TR was also very high.i took up the matter with the management and have come to know they have taken some measures for that.i had clearly told their staff that they r hurdle between ford and costumers.i advise u to take up the matter with management or ford itself.u have not specified in which area they have charged extra.
Reply
1
D
don
Sep 8, 2010 11:36:39 PM
Thanks..this is pretty useful. I am planning on buying a compact car..and this review certainly helps!
Reply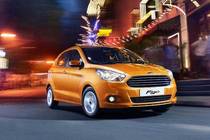 This car model has expired