Basic items missing
Fordfigo being a new model car is worth priced with features like a/c,/heater,power steering,brake,centre lock,music system.However it is sad for costumers as we don't get basic items such as body cover,floor mat,mud flap for which even discount is not available.It is really rediculous that ford company can fix expensive features but can't afford such basic items. We feel exploited by the company
Write your Comment on Ford Figo 2012-2015
1
B
bharath
Aug 25, 2010 4:41:36 PM
Agree that u feel cheated, Big company like Ford should have standard practices. Everybody cant be Khosla to bargain.
Reply
1
S
sachin
Aug 24, 2010 11:19:36 PM
Even I got mentioned things absolutely free.. even divinity,perfume . Its all up to u
Reply
1
N
nitin khosla
Aug 7, 2010 9:45:19 PM
Boss... this is upto the person how to avail discount on these basic items very company says no to discounts but if u have the calbre and marketing skills, then can easily get the discount on them as well. Even i got these things absolutely free......
Reply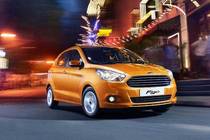 This car model has expired