FORD Fiesta 1.4 EXI Petrol- AC Problem
I am having a Ford Fiesta 1.4 EXI. This car is aged about just 4 years and clocked 43000 kms. Strangely it has developed some problem in the Air Conditioning System which the Service Guys are not able to detect at CAPITAL FORD,Bhubaneswar,Orissa. First I was informed that it has a leak in Cooling Coil which has to be replaced. On investigating for 2 days and replacing the cooling coil the Service engineer says that the compressor is having trouble which has to be replaced also. I am surprised for a Ford Car having such major troubles in AC in just 4 years and 43000 kms. Whereas i have never faced any such issues in any other Car i Own. This accounts for major repairing charges which is not expected for a car of this age and brand. As i have observed from several owners and their blogs this has been faced by many Ford car owners i.e Ford Fiesta and have been reported to the MD as i have done. This is the responsibility of the Manufacturer to resolve these issues after recieving such complaints of similar kind from different Owners and rectify the faulty part. Ford being a recognized brand should respond to such complaints and take the responsibility to replace the spare on company's cost. Even After many owners complaining of same problem FORD INDIA refuses to take responsibility.
Write your Comment on Ford Fiesta
1
a
ankur
Feb 25, 2015 11:32:04 AM
hi, 1st of all i would say always purchase a car which spare parts are less costly, i am working in automobile OEM since past 14 years and believe me for each OEM after market business (spare parts sale in open market to end customers like us) is one of the most earning business and every company is doing on an average approx 15 crores business from this segment and this business is operated in each company by just 3-4 manpower 2nd part NO OEM make any part inhouse except 5C( crank shaft,cam shaft,connecting rod,cylinder block,cylinder head)and these parts we rarely face any replacement in product life,rest all parts were purchased by OEM's from their suppliers,and few OEM's not even make above 5C, so we must understand that purchasing a part from a dealership by stating that it is a OEM part is totally wrong 3rd and very important aspect which comes in mind to a common person from above written line that ultimately it is a part which is coming to dealership from OEM and it is their responsibility , now my dear friends pls be noted that any part which is fitted in your product after use it has no warranty (you never get any warranty card for replaced part ) although due to huge margins some time dealer may replace your part (that to on some charges basis which he claims from OEM, but not everytime 10 times out of 100 only) and 2nd part comes for quality of product believe me friends the product which you purchased as spare parts from market/dealership is not as good quality as it is fitted in 1st time in vehicle, why....i will explain in every OEM there is a system that at the time of any part that part is inspected at sample basis not 100 % parts and on base of sample (which is generally 5 parts in one lot and one lot could happen from 500-5000) rest all parts will be sent in stores without any inspection,and for spare parts which is sent in after market in lot if OEM's it comes from supplier directly packed in aftermarket packing with brand name and send in spare parts division (WITHOUT ANY INSPECTION) and we get without inspected part and worst thing in this system is that this is known to supplier also and lot of time supplier sent his rejected parts which may be not having any issue in fitment but at part of performance it will going to effect you of ur vehicle so believe me after market spare parts is having poor quality, now question comes what to do then, better to go at local workshop and let him repair your vehicle you will save good money/time and better service each time and if you know supplier of OEM for any part it is better to fit that brand part in your vehicle , i know this line everyone will not understand but i will explain it with a example for example AC in all car OEM's there are 2 major suppliers for AC 1-Denso, 2-Banco they both are authorised suppliers for all OEM's (few other also might happen but these are major kings) just go in market and ask these brands and handover it to local mechanic and your work will be more better and you are going to get better quality product as compare to OEM, i will tell why,because these brands who is selling their product in market and competing with OEM product (which means indirectly with their own product,they never send bad quality product in market by their own brand name) and also believe me you will find up to 30-50% price reduction in spare part cost itself for example in 2 wheelers if we have to replace a set of Brake shoe of both wheels of ho*da acti*a u will have to pay approx 450 rs in dealership (labour charges extra) but if you buy Ask automotive brand name product from market (they are authorsed suppliers for all 2 wheeler OEM's for brake shoe, you will have to pay approx 300 rs only so 150 saving,with same company make product and better quality product .....so think 10 times before going to replace any part at dealership
Reply
1
A
atul kumar singh
Apr 10, 2011 12:47:46 PM
ford fiesta 1.4 exi petrol I LOVE THIS CAR, OVERALL PERFORMANE IS EXCELLENT IN ITS CLASS.
Reply
1
m
manish
Nov 24, 2010 1:08:13 AM
u will have to change the ac coil...i sufferd from same pblm some days ago...but when i changed it...ac starts working again ...my mechanic said it is a very comman pblm in ford cars
Reply
2
s
sushil
Jun 25, 2012 1:23:59 PM
What was the price of cooling coli & complete working.
Reply
2
a
amit nath
Jul 23, 2013 12:08:35 AM
what was the price of the cooling coil and complete work cost.
Reply
Ford Fiesta User Reviews
Chance to win

iPhone 7 &

vouchers - T&C
*
Rate & Review
All (5)
Mileage (3)
Performance (2)
Looks (3)
Comfort (5)
Engine (2)
Interior (2)
Power (1)
More ...
I am somewhere forced to write this review as my Ford Fiesta has performed so very well in the past one year that I really wanted to share my experience with everyone. I ...Read More

Ford Fiesta is a successor of Ford Classic, with an engine having enhanced pickup and a better actual mileage. Interiors are also very comfy and stylish. It gives a luxu...Read More

Excellent car to own, everybody who shared the next seat with me in my Ford Fiesta was really surprised by the performance of the car. After driving it for 5 years, I en...Read More

Look and Style: Pretty good looker all around, excellent and thought out interiors and excellent attention to detail.  Comfort: Fairly comfortable though lumbar support ...Read More

Look and Style: This car has good looks, aerodynamic design and eye catchy style. Comfort: It's a driver's car if you're on the front seat, you will have great fun while...Read More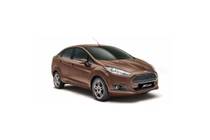 This car model has expired