Ford Eco sport
Buying experience, This is my first car, but I know drving for almost 8 years before that. I did a test drive of other cars was planning to buy only in the budget range of 7-8 Lakhs. I was planning to buy ford figo or on the higher end fiesta as both of these cars are owned by friends and I have driven them. When I have decided to buy went to ford show room, Eco sport was readily available for test drive it was top end varaint with button start , I was asked to take ride. Well the ride was quite intresting , it was a sunny day I came by motor cycle to the show room, when I enetered the car AC was so good, getting in to driver seat was so easy and comfortable as I weigh around 100 kgs. when I engaged gear there was no friction at all it slided so smooth, well the power was like oomph, terrific, I did a slow ride it was so quite, no noise pollution , so cool so comfortable. Then I did bit of fast ride like in 5 -10 min I reached closer to my home. Well the driving was so intresting I totally forgot how much time it took to reach destination.I m pretty sure it was quick. I dint felt like stopping the drive , I wanted to continue the ride. It was so comfortable in all the perspective which I never felt in any car before. I felt so good after driving, the seat hieght, view , power , super smooth steering, smooth gear, shock asbosorbers were fantastic, its like I m not connected to road. its almost like a dream car. Though the budget was high me and every body in my family liked it, so we bought it. we had a bit of problem though with the delivery - the car delivered to us was not shown to us before registration (even though when we asked for it). the delivered white car had super fine scraches all over which was visible when we saw in petrol bank light. when asked for it the answer was it should be due to polishing /teflon coating it will vanish eventually but it did not. The show room delivered the car closed eventually due to bad service reputation. even had bit of problem with door alingment which was sorted out later. Well definitely need to check the car and confirm the quality check yourself. other than that , it was good car did many long trips reached 60,000 KMS in 2 - 3 years time. Recently bit stuck with the performance issue , which should be fixed.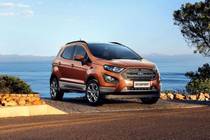 Rs. 7.81 - 11.35 Lakh*
in
1 Offer
On Ford EcoSport :- 7.99% Rate of Interest...
13 days left