Ritz vs Punto....
After driving the Maurti Ritz, I have this mental block that no hatchback can be as comfortable and as smooth as this. At the same time my friend has a Fiat Grande Punto and he is in love with that. We decided to take a trip in each other's car. Must admit, the sparkling red Punto looked quite good. Fiat Grande Punto has a spectacular spacing. The interiors and exteriors look very finished and high quality. The leg room seemed to be a little better in Punto but in terms of comfort both are equally good. The boot, no doubt is fantastic for a hatchback in the Fiat. However when it comes to driving, Ritz is more responsive and smooth in comparison. The gear shift is better as well. The brakes were however more responsive in Punto, but that might be because the Punto is just 7 months out of the showroom as compared to the Ritz, which I had purchased 11 months back. The mileage that Punto diesel is delivering is around 12kmpl and Ritz is delivering around 17 kmpl. In terms of handling and control as well, Ritz seems to be better. The comfort on the bumpy roads is more in the Ritz thanks to the higher ground clearance. If we consider in terms of resale value, my car would be far better even if just because of the brand name that it holds. Plus, the advantage is the service centres. I don't have to run around looking for spare parts and service stations because of the wide spread Maruti network. So even after the test drive, my car is still the best and it would take a lot for anyone to change this fact.
Write your Comment on Fiat Grande Punto
1
V
vimal sharma
Jan 17, 2018 7:11:32 PM
i have both ritz and punto . ritz lxi and punto emotion diesel.the punto have better handling and comfort but the visiblity is 8foots far from car while in ritz it is only 3 foot far from car and ground clearance of ritz is also good.the punto have more and good features but the assesories of punto is not avaible easily in market while the ritz parts is easily available in market .boths cars have good driving experience
Reply
1
r
rohan pk
Aug 30, 2015 9:19:46 PM
I own punto 90 hp 2013 sportz and it always gives 24 plus in highway between 90 to 100 km per hour speek and its gives best 28.4 with 80 km speed with straight road for 100 km worst high way mileage she gave is 17 with between 140 to 150. This is where fiat engineering plays a vital role no ther cars(lighter cars) gives such mileage. Lets real owners speak.
Reply
1
b
bibin
Jun 6, 2015 5:01:15 PM
I own Punto 2014 model, Done 16000km now A great car to own, did first service at 15000Km, 5100 rs was the total bill Ride quality is too good, breaking superb even without ABS. Gives a Fuel economy of 18km/litr in city and nothing less than 23km/litr on highways. Superb build quality, feels like driving a jet
Reply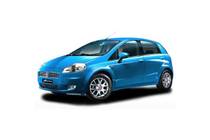 This car model has expired