An economical car from Fiat
The all new Grande Punto model will be launched in a few days in India. The Grande Punto is a small hatchback model which is famous for its performance as well as style. As the other small cars of Fiat in India the Fiat Grande Punto model is expected to provide good performance as well as quality interiors. If we talk about the fuel economy of the Punto model then as the company claiming the Grande Punto model will provide good fuel economy. As the previous models of Fiat in India the Fiat grande Punto model is coming with good quality and stylish features.
Write your Comment on Fiat Grande Punto
1
a
ansari shafeeque
Jul 19, 2010 11:27:51 PM
i no fiat from my childhood, i think fiat require agressive marketting, bcose they got excellent product, like grant punto, multijet engine.
Reply
1
S
sajit
Jun 7, 2009 4:49:02 PM
HI all, In a source I could able to take the test drive of 1.4 petrol and 1.3 diesel punto its awsome to drive which is having an excellent driving stabilty ,comfort and handing is simply the gr8..and the boot capapcity is 280- litres but I strongly feel that its much more than that..belive me its not the sales technique that am doing in here, but its good at the same time i could able to drive the swift diesel and the i20 petrol..the intreors i felt that the 1 20 stands a a one step higher dont knw why no 1 can beat the comfort and stablity of the vehcile,I felt that the rear space was a bit lesser but whnI sat in the swift and i 20 the punto got more rear space..lets hope for the best.the variants avaibale are in active 1.2 FIRE and 1.3 diesel petrol,dynamic,emotion and emotion pack will be availabe in 1.4 FIRE and 1.3 MJD DIESEL. colors Medium Grey,Minimal Grey,Hip Hop Black,Bosa Nova White,Exotic Red,Electric blue.. Tecnical specs Overall Length 3987 mm Wheelbase 2510 Ground clearance 165 Height 1495 Boot space 280 Fuel tank 45 L Width 1687 Turning radius 5.4 ENGINE:Fire 1.2 L active , 1.4 L , 1.3 L POWER: 68.22 ps@6000rpm, 89.54@6000RPM, 75PS @4000RPM DISPLACEMENT:1172 cc , 1368 , 1248 VALVES: 8 , 16 , 16 CAMSHAFT SOHC , DOHC ,DOHC SUSPENSION : FRONT: INDEPENDENT MC PHERSON WITH STABILIZER TELESCOPIC INDEPENDENT DUAL EFFECT SHOCK ABSORBERS.. REAR:SEMI INDPENDENT COIL SPRINGS TORSION BEAMS BRAKES: FRONT DISC,BACK DRUM. SERVICE IN EVERY 15000KMS WARRANTY 2 YEARS OR 80,000 KMS . SUBMITTED DATE 7/6/09
Reply
1
f
fazeen
Jun 7, 2009 12:14:57 PM
i love fiat of course.they know only to make good cars but don`t know how to marke6t them in india their age of pathmini has been over
Reply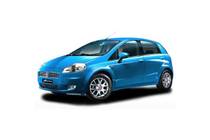 This car model has expired