wonder car but with worst ac
Look and Style awesome great look then any car in this segment Comfort awesome uncomparebale to swift Pickup fair Mileage they promised 15 mine give 13 Best Features lokks comfort Needs to improve worst air conditioner Overall Experience good. but as it was my first car i feel cheated as of ac
Write your Comment on Fiat Grande Punto 2009-2013
1
b
balakrishna
Jun 2, 2011 10:33:49 AM
i test driven the car ac is best. u wont like any hatchback other than punto once u test drive. appealing car.
Reply
2
p
prince
Jun 5, 2011 3:31:03 AM
buddy ur rigth but let me correct u i am talking about active punto 1.2 petrol. u test drive that car n then we will talk ok i have 1 active punto 1.2 petrol n my frnd hav d same we both r facing d same problem. wonder car but wrost ac. in dis varient
Reply
3
s
shataksh
Jun 14, 2011 1:53:26 AM
FIAT gave free upgradation for FIAT punto petrol A/c recently u may want to check that out ...
Reply
4
p
prince
Dec 12, 2012 3:39:49 PM
yes i have upgraded my a/c now its better than earlier thanks shataksh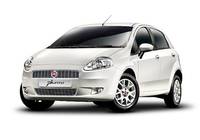 This car model has expired