The big small car-Fiat Grande Punto
It's a worthy decision to have a car of fiat because even tho i am not a regular customer, recently when I saw the market of the four wheeler cars its been going up very frequently and the credit goes to the hatchback cars. I am not a fan of fiat cars but since I am planning to move on to a new hatchback car than why shouldn't try this one which has been given a new style and look with enhanced features. Fiat Grande Punto hatchback has been launched in the Asian market. The car is well enabled with the high class features but I am not happy by the ground clearance the car has been given along with the features of the base variant and price is also not that good. Used Fiat Cars are hard to maintain and i would not suggest to anyone because of its dealer and service network along with spare parts are also very costly. So all in all Power wise this hatchback car is good but in the race of hatchback cars it is still behind Maruti Swift, Hyundai I20 and Volkswagen Polo. The Fiat Grande Punto is producing fuel efficiency of around 12 to 14 plus, which is not exactly bad in the city. The base variant of the car has simple features as it is loaded with the engine displacement of 1172 cc which produces the power of 68 PS maximum but car has no ABS, CD player and Leather seats. Thats my overall view regarding the fiat cars now and i will updated the reviews of the Fiat car with you, so stay in touch with me, my id is available on the link which is showing on the top of the site. For today it's over and out, have a nice day till then see you later.
Write your Comment on Fiat Grande Punto 2009-2013
1
k
ketan j.
Aug 22, 2013 5:18:19 PM
Now you can upgrade your old car with new ground clearance kit. so problem is solved.
Reply
1
S
santosh tripathy
Jun 12, 2012 7:59:16 AM
Asheesh, Punto has the best ground clearance than swift and i20. Automobiles are recognized for its engineering, not for features like hyundai cars are offering. Its indian mentality that Hyundai is doing well in india, see its pathetic situation in countries where people understand automobile engineering. Here in india people dont understand terms like gear ratio, handling, power curves and all. People also cant differentiate engine noise from car to car. So punto as a car should not be evaluated by its sale in india. Look at its response all over world. Its a world class car. Compare punto and Swift sale in europe and America.
Reply
1
a
asheesh khare
Jun 11, 2012 8:25:50 PM
amit sahab if ground clearence of 185 is less then can u plz tell me which car gives u more then punto? i m sure u dont know anything about punto better u call me @ 9792698532
Reply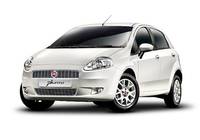 This car model has expired