Punto may be good but ..what is the future of fiat
Punto may be good but ..Fiat will be bankrupt at any time bec.. its parent company is in deep trouble aprox 10 bln, USD debt. Fiat India also same way ... here also sale is comming down evey month.. see tata website sales figures of fiat.. Interestngly Fiat india stopped to issue press release of sales figure...
Write your Comment on Fiat Grande Punto 2009-2013
1
R
rajasekar
Mar 26, 2013 12:18:16 AM
hey guys plz tell me do they proper service..in all the review abt Punto, they said tat it a better car i the segment but lag in service wat does it mean?? do't they ve proper service in india(chennai) are't they??
Reply
1
s
sandilya
Apr 10, 2012 10:46:59 PM
Guys in forth coming months do you beleive Fiat is going to have their own showroooms in india in every city and to give a better service.
Reply
1
D
dr. anand jadhav
Mar 18, 2012 8:26:14 PM
FRIENDS i AM WORKING AS PROFESSOR IN PUNE IRRESPECT OF EVERYTHING I LIKE THE VEHICLE BUT I DONT KNOW THE TECHNICAL ABILITIES OF PUNTO GRANDE 1.3 DYNAMIC MODEL PLEASE GUIDE ME ABOUT THIS VEHICLE. I HEARD ABOUT THIS IS ENGINE MANUFACTURING COMP. AND SUPPLYINE TO DEZIRE, MANZA, INDICA 7 SO ON PLEASE COMMENT URGENTLY SHALL I GO WITH PUNTO
Reply
2
R
rajasekar
Mar 26, 2013 12:22:31 AM
Nice car to drive?? but all servicing is a issue check service in ur city bec i have driven Punto and really wanted to Buy
Reply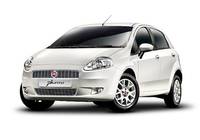 This car model has expired