Must for car ENTHUSIAST
Look and Style : Being a designer I feel it has been design WOW. Comfort : I enjoy. Pickup : Not bad. Mileage : 12 - 13 overall. HIghways 13+ Best Features : Refined Engine, Ride Quality, SUSPENSION Needs to improve : Interiors quality Overall Experience : WOW. love it WAITING FOR PUNTO EVO...
Write your Comment on Fiat Grande Punto 2009-2013
1
N
nikhil
Jan 29, 2011 3:05:25 PM
I am not denying with mileage of SWIFT as it also has FIAT diesel Engine. But do SWIFT VDI has all the features I mentioned in Punto Emotion. Also I am not saying that Swift is a bad car I am just saying that my experience with PUNTO is great and I am happy with it since 8 months and driven 18000 Kms. 1. Huge boot space 2. Electronic controlled side mirrors 3. It has 2 trip meters 4. Both trip meters shows Average mileage, Avg. Speed, Instantaneous mileage and trip duration 5. It will display lot of details on the console like: How many kms. you can go with the remaining diesel, Temp, Date, Stereo info, Service reminder 6. It will also display in written Front Right Door Open, if any door including boot is open 7. The folding key has in built center locking. 8. Auto down in all four power window and auto up in driving side. 9. Nice blaupunkt music system with a feature like volume increase & decrease with speed. 10. Driving seat height adjustment. 11. Stearing height adjustment. 12. Rear Wiper with Defogger. 12. Double glove box. 13. Service at 15000 Kms with approx cost of 4500/-. I got my Punto Emotion Diesel on road for 602000/-. I was also confused between Swift VDI(585000), Punto Emotion, Polo but looking at all the features offered in this price range I decided to go with Punto and I do not regret my decision. I gave 15000/- extra for Punto then Swift but I got my car with in 7 days not 4 months waiting time. Also just for info FIAT is parent company of Ferrari. :)
Reply
1
S
sarthak
Dec 16, 2010 11:26:05 AM
Hey i m thinking fr buying punto this new year.. will it give a good response on hills?
Reply
2
Y
yatinder
Dec 16, 2010 12:08:21 PM
I Recently travel to Dhanaulty.. Didnt find any problem as such.. until u r in right gear... ...
Reply
1
Y
yatinder
Nov 29, 2010 8:35:44 PM
@Mainak : Yes its suitable for long journeys easily. Though i just bought it only went to dhanaulti. & it was great. & when Spark can take all the pain to manali from delhi, Punto easily will be more comfortable. @ Jaseet :Dude Fiat engines are far more reliable as its everyone knows. The brand you are driving have already maked a name in India as they are more than 20years old. But Fiat Punto is far ahead comfort than desire & 800. Man just drive it its awesome ride quality. I love each & every moment. Its not obsession. Its a tru feeling :) .. Rest its on Us how we take care of our car..
Reply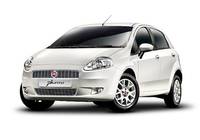 This car model has expired