hell service
Overall Experience: On 15 th December 2011 my car stopped working in Bangalore Mysore hi-way and your tow service pick up my car and drop for service in KHT Motors Bangalore. They say that it will delver with in 2 or3 days. After 21 days they are telling it has an electric system failed and it will take another 15 days to deliver the car I want to know that 1 For changing an electric part or system do you take 36 days, then how many days do you take to make a car ?
Write your Comment on Fiat Grande Punto 2009-2013
1
t
tanmay
Apr 29, 2012 5:20:21 PM
increase service station like maruti and tata .
Reply
1
R
rajesh
Apr 3, 2012 8:21:09 PM
Service may be issue some of the locations. But as per the car performance, comfort, road grip and fuel economy is concerned its great. I am getting 14 KMPL milage in Delhi roads and second year no issues.
Reply
1
a
asheesh khare
Jan 20, 2012 6:23:06 PM
ok with points given for service but not agree with marksgiven for others. its excellent in comfort,appearence, performance and fuel economy is 20 in diesel. what else u want? y but service part is really pathetic i agree
Reply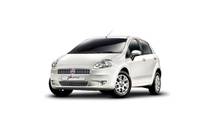 This car model has expired