Great car with amazing performance
This car is here to rule,great choice for people who want economy+style.The cabin is so silent that u often feel bored on a highway in crave for some bumps or noise.Loaded with features which maruti atleast can't think of incorporating in their cars for atleast 2 years as their latest addition ritz is just a box in comparison to punto.got mileage of 22.6km/l on delhi jaipur expressway with A/c.Plus all the attention i get on the road is just great.handling is superb,i have to regularly switch on my speed limit reminder to avoid the cops in city.Big boot is a add-on haven't seen a boot big as this in a hatchback.Clutch foot rest is great help on long drives.Overall great car enjoy!!!
Write your Comment on Fiat Grande Punto 2009-2013
1
N
nikhil c.mondkar
Jun 5, 2011 1:43:36 PM
in India,the service the quality of Parts and care is more good compare to Maruti,VW,and Hundai, As FIAT and TATA is known for service and Quality... Grande Punto is the car of the year 2009 and best car design of the year 2009 and 2010. Punto have turned the fortune of FIAT and is the most popular car from ITALY,EUROPE AND POLAND... For your information Maruti SWIFT'S engine is desingned by FIAT.. The car looks are spoorty and Aero dynamic which will give you feel of Austin martin from Front Check austin martin photos in google. Best millage of 15 in city and 18 on highway with A/c. ...Its Truly Crafted for True Man. Regards, Nikhil
Reply
1
j
jitesh bhatia
Nov 20, 2010 12:31:52 PM
Hi iam drivining punto for last 4 months. Its a Very good car. Service experience was good and its stability on road Is amazing. Iam driving a diesel and fuel economy Is around 20 on highways
Reply
1
s
shazz
Aug 21, 2010 9:07:17 PM
@akash -:service support has been better than expected.had my first service done and experience was quite good ,also FIAT guys regularly organize free check-up camps where u can hav complete check up for ur car,that too free!Regarding spare parts availability one needs to wait for 7-10 days for parts to arrive from pune to delhi thats the only downside but still haven't had the need to do so.car is robust so don worry!Before buying check the reputation of ur concerned TATA dealer.Makes a lot of difference Enjoy!!
Reply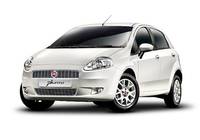 This car model has expired