Do not Buy
Look and Style good Comfort good Pickup not so great Mileage very low efficiency Best Features good for highways Needs to improve air conditioning is so bad, you never feel the cooling before 15 mins. Overall Experience bad
Write your Comment on Fiat Grande Punto 2009-2013
1
D
devinder
Feb 27, 2011 11:19:30 PM
ye sriram pitega
Reply
2
S
sunil sharma
Oct 23, 2011 1:01:49 AM
Wat a F...k is this? Yaar inhoney kabhi car chalai bhi h? Cycle or rickshaw chalaney wale kya jaaney ...car kya hoti hai aur comments kaisey karney hai. For making comment u shud have sound technical knowledge. I am an automobile professional since last 11yrs. I was the part of that R & D team who developed entire sealing system for Punto & Linea in 2008. What a gr8 hatchback car Punto is. Excellent 5star looks, at least 8 to 10 features which others don't have till yet. Plastic quality may not be that much clicking but I am sure that could not be the reason to switch over. Italian are gr8 designers, If nobody know...plz update urself. Price is little bit high...but don't worry...u will appreciate ur decision once u got it. I too planning to have Punto Diesel Emotion till the end of Nov.2011.
Reply
1
C
cardekho team
Jan 3, 2011 1:41:33 PM
The Fiat Grande Punto is a very well built car, Fiat cars are sold and serviced at all Tata Motors service stations and this is a good thing for Fiat owners. The Spares are not expensive as compared to before and the Punto requires less maintenence too. Expect 14kmpl on the Petrol and close to 18kmpl on the Diesel Punto. Thanks, CarDekho Team
Reply
1
k
karthik
Dec 31, 2010 4:46:51 PM
hi every one i have a plan 2 buy a new punto any one can advise about maintainence cost and millage / litter?????
Reply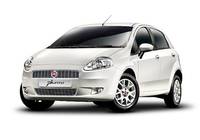 This car model has expired