Datsun Redi-Go - A car with more than 20 design issues
Datsun Redi-Go - A car with more than 20 design issues
The Datsun Redi-Go car needs to be recalled back from the market. 1. Extreme engine sound and vibration on starting and even during running. The running engine sound is too much. This is not a silent vehicle or a piece of craftsmanship, rather it is a piece of crap. 2. Even while complete clutch pedal is pressed during shifting from neutral to 1st gear, the gear box makes a sound. 3. The reverse gear lever gets stuck. Gears get stuck up when we shift gears from reverse to forward 1st gear the vehicle remains in reverse gear because the lever for reverse gear gets stuck. Same thing happens when we shift gears from 1st gear to reverse the reverse gear lever does not catch the gear box. 4. The gear gets stuck while shifting from neutral to 1st gear in traffic lights thus creating a bad situation in heavy traffic. At such a time, it does not even allow to shift to the 2nd gear for at least pickup from rest. 5. Whole body vibrates enormously on pickup from rest (whether in first gear or in reverse gear). 6. Sometimes when we apply brakes during high speed, the brake responds quite late. Pressing pedal 2-3 times in one go makes brakes absolutely ineffective 7. Brake drum makes a sound on coming to halt as if some metal rivet is rubbing the wheel drum. This happens specially when the moving vehicle comes to the final halt. This also happens if one has to use the brake to keep the car stopped while standing downhill. The metallic rubbing sound of brakes drums, which was surprisingly reported as a "normal feature" by the Techliners team from Nissan, is not found in any vehicles the world over except this vehicle. This surely gives a feeling as if the wheel drum is undergoing undue wear and tear during braking due to design deficiency. 8. When A.C. is ON, there is a sound from the underbody. I was informed by the Nissan workshop that this sound is from the radiator fan which gets switched ON with the A.C. and this is normal sound. However, this sound is quite high and annoying. 9. Extremely poor pickup with a.c. ON and 4 persons in the car 10. No cooling at all in A.C. in traffic jams and in a parked vehicle under sun. On low rpm of engine - When we shift from 4th to 5th gear and drive in a speed of nearly 50 k.ms. in the 5th gear, the cooling in the A.C. vanishes. The performance of air conditioner drops substantially under the sun and the cooling nearly vanishes if the vehicle is in a traffic jam in a sunny environment. The inefficiency of the A.C. of this car, shown as a "normal feature" by the Techliners team from Nissan India is yet another proof of the manufacturer's indifferent attitude to the customers. If the car cannot provide proper comfort, then I must say, that even the A.C. of Tata Nano which is world class, can beat this car by multiples. 11. The ignition switch is defective. With the running engine, turning the key from ON mode to Accessory mode, switches off the stereo momentarily and then switches it back ON. Turning off the running engine to "ACC"essories mode switches off the stereo and other accessories also. However, the stereo and other accessories switch back ON again immediately until key is turned further to lock the steering wheel 12. While driving, at some places in Delhi, the stereo stops playing the FM channels and even at some places, more than one channels get mixed up and transmission from all the channels starts appearing at the same time. 13. The FM channels setup by you in the car stereo for different buttons get reallocated all by themselves on different buttons. A particular FM channel setup on a particular button gets setup on other buttons simultaneously. 14. Upper Gear shift indicator in the meter panel does not work although the lower shift indicator works. 15. Fuel average came out to be only 12.5 k.m. / litre against the claim of 23 k.m./litre 16. Horn switch does not work on the middle spoke of the steering wheel. While turning, if one has to sound the horn and you happen to press the horn switch at the middle spoke, the horn sounds after great pressure is put. 17. Stereo display doesn't show watch although the time settings and clock display settings are there in the stereo. The watch is only visible if you switch off the stereo. What's the use of this clock in the stereo if you cannot consult it for checking the time while listening to the stereo. 18. There is no intermittent wiper setting. Driving safety gets compromised during slight drizzling rains. During light drizzle, you have to keep on switching the wiper On and Off manually, it does not clean the windscreen automatically intermittently. 19. Annual Maintenance Contract applicable to all Nissan workshops all over India should be provided by Nissan India for services and maintenance of all Datsun vehicles just like Ford, Tata etc. 20. The roof of Datsun Redi-Go does not have a sound cushioining material installed from inside. During rain, the sound of water falling on the car roof is so enormously high that one cannot even hear the stereo or talk to each other properly. The sound of rain water falling on the roof is sufficiently high to create hypertensive issues in the car occupants in such rainy situations. 21. Cabin light switch is defective when we switch on the cabin light during driving, the light switches off automatically. Then the switch has to be kept pressed manually to keep the light on. 22. The A.C. switch is not illuminated in the OFF position. This is a safety hazard while driving this car at night due to fumbling in the dark to locate the A.C. switch as there is no light in the A.C. switch on the panel. This is definitely a safety hazard on road. Most of the car owners use their Saturdays/ Sunday / holidays to service their vehicles. Unlike many other car manufacturers like Maruti and even Tata Motors, Nissan India and it's employees are so extremely consumer-unfriendly that they do not sacrifice their Saturdays / Sunday / holidays for the customer. Rather they make the consumer sacrifice his official duty on a working day to meet their team of techliners. Nissan is least bothered about the 100% health of this car and health and safety of its customers. They don't feel shy to compromise the health and safety of their customers.
Datsun redi-GO 2016-2020 User Reviews
All (499)
Mileage (177)
Performance (64)
Looks (115)
Comfort (160)
Engine (73)
Interior (53)
Power (63)
More ...
LATEST
HELPFUL
VERIFIED
CRITICAL
The service of Datsun RediGo is great and AC is also good with low maintenance cost but the braking system and mileage are not so good in this car.

It has a bad suspension, it is not suitable for long trips, the clutch is so hard, loud engine sound, no mileage, No additional features, knee room is worsened for 6-foot...Read More

Best car for a millennial in a decent job who is planning a family or has just started a family. Best car for daily usage. Low on maintenance, decent on performance.

This car looks are very good. I like Datsun Redigo. This is a very good car and its colour is fantastic.

My height is 6 feet but I am in very comfortable in my car. I went out very comfortable in my car and also I felt very comfortable in my car. This is my first car and my ...Read More

Nice fuel efficiency 20km in the city and 22km on the highway with AC. Single-use, insurance completed well-maintained seating comfortable.

Far better than Alto K10 Vxi. Its features, style, performance, mileage and comfort everything is superb. Its a small family car.

Engine oil leakage. Fragile oil filter and pump, the material used are not of good quality. It easily gets scratch while driving on a rough road.

View All redi-GO 2016-2020 Reviews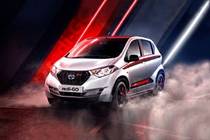 Rs.2.80 - 4.37 Lakh*
This car model has expired
Write your Comment on Datsun redi-GO 2016-2020
15 comments
1
P
pratap kumar paluvadi
Jan 6, 2022 12:42:00 AM
Worst car don't buy this.
Read More...
Reply
Write a Reply
1
P
pratap kumar paluvadi
Jan 6, 2022 12:40:19 AM
Huge clutch noise while pressing pedal, particularly on trafic driving. And wiper not cleaned driver side completely.
Read More...
Reply
Write a Reply
1
V
venkata pratap
Jan 6, 2022 12:36:36 AM
Yes it's happened to me
Read More...
Reply
Write a Reply
×
We need your city to customize your experience