A BIGGG Hatchback with complete package.
Look and Style: Well this particular area is quite subjective, differs man to man. For me it is matured looking hatch which growns within yourself with time. Front profile bold, clean. Side section is good but lacks the B-piller black strip which would complete its look. Rear end clean and simple. While the rear end is not very stricking but certainly simple and good.   Comfort: Open the front door and rear door - you are seeing one big hatchback which has ample of space. Almost a proper 5 seater. Wow a big boon. We indian love space. We have families together who loves to for a short or long trips often. Now this is the car for you then. Rear leg space is large. Driver seat has more than enough space. AC keeps the cabin temp down very quickly. Ride quality is awesome. I feel awesome while driving. It handles the potho,es very gladly and efficiently. Light steering. Car balance is noticeable. High way drive is fun but you need a very steady hand on the steering. It would be better if the steering would weigh up with the high speed. But thrn also, its balance and composer keeps you happy.   Pickup: I own The petrol one. The engine has good grunt, lower end could have been more stronger, but middle and upper area has good punch. I enjoy after 1500 rpm mark. But for best mileage 1400-1800 perfect range. Acceleration is strong. I heard the diesel one is quite faster and puller.   Mileage: City 13.5 to 14, highway 15-16.   Best Features: Space. Ride quality, body composer, engine power, headlamp, Looks, boot space, and many more.   Needs to improve: Horn pad placement, Rear design with one or two more curve, b pillar black strip.   Overall Experience: Till now. Just awesome. One tips to petrol owners who are concern about their mileage-drive the car within 1600rpm range for first 1000 meters. Upshift early, press gas pedal slowly and smoothly lime butter, upshit @ 1600-1700 rpm range. Do not hurry if you want mileage. You can drive faster but accelerete slowly.  
Write your Comment on Chevrolet Sail Hatchback 2012-2013
1
D
devanathan
Jan 21, 2014 9:02:49 PM
I have done 17000 KM with my SAIL UVA 1.2 L petrol in 6 months and i am getting a mileage of 17 approx on the highway at the normal speed rate of 80 to 110 and inside the city i am getting 14 to 15. The pick-up using AC is little sluggish but the performance of the car is really amazing once it reaches the 3000rpm and more.
Reply
2
s
saptarshi
Jan 21, 2014 11:38:45 PM
Hi Devanathan, 17,000 KM in 6 months is really great figure for Petrol car. Currently i am getting 14 kmpl in city which more than satisfactory for me, now i am eyeing on 15 kmpl in City. I have not done any long trip on highways recently, so cant comment on that. But i can safely assume it would give more than 16kmpl if i maintain 80-90 kmph. For Petrol car of this size and weight i must say the mileage figure is pretty good. As i rarely use AC (only in summer) i feel the engine is really punchy above 2000 rpm. Today when i was returning from office to home, speed of the car went down to 30kmph @ 4th gear (Engine was rotating @ 900-1000 rpm) , to my surprise the car pulled effortlessly from this point in the same gear. I like the lower end torque of the mill pretty much (when AC is off).
Reply
1
s
saptarshi
Dec 10, 2013 1:45:54 PM
# Changed the Clutch wire settings a little, there were good amount of unnecessary travel at the Clutch. The mechanic did it within 60 seconds and asked me to check. WOW!! A huge difference, no more long clutch travel, early bite of the clutch, now it became very easy to drive in dense traffic and left foot a much more comfortable now. Be sure to depress the clutch pedal fully after this change. # Sneaky sound from Clutch is gone now. The mechanic put some used engine oil in one joint of the clutch pedal, lubricated it and no more sounds from the Clutch. :-) :-) Very happy now.
Reply
1
s
saptarshi
Oct 15, 2013 5:09:41 PM
1950KM UPDATE: ------------------------ My Car did 1950KM till now. Some major highlights are: # Again, it is a Big Hatchback. I am truly amazed on the space department the SAIL UVa has offered. # Very light steering is a pleasure to drive in the city, congested roads even from the standstill. # On the Open road the Car is lovely to drive, snazzy engine response and nice growl. After 1800 RPM there is no look back. # With 5 adult people, AC on the car feel sluggish in the congested road, especially if you upsfhit @ 1500-1600 zone. Better to drag till 2000 RPM in each gear when 5 people on board and AC is on. # Powerful AC motor. Chills the cabin in no time. # Comfortable front and rear seats. Good gear shift. # Clutch throw is long, :-( and a mere clinch sound appeared. Will have this corrected. # Mileage is hovering around 12-14 depending on the traffic situation. (Petrol Engine) # Got 10KMPL mileage in one journey, with 90% Ac on and standing still in traffic for as long as 10-12 mins and covered 12 km in 1 hour, non-stop engine running. Mileage is fair enough considering the situation and powerful AC compressor. If we drive moderately, press the gad pedal sensibly this car will make you and your family very happy.
Reply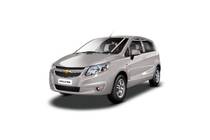 This car model has expired