Maruti Celerio Vs Hyundai i10 Vs Chevrolet Beat
Modified On Feb 15, 2014 02:36 PM By Mayank
Maruti Suzuki Limited India (MSLI), always holds a special place in the hearts of people in India, owing to its several Aam-Aadmi Cars. Untill now, It was the common perception among individuals that Maruti Cars only appeal to masses, not to classes. Hence, in an awe to change the mindset of people, Maruti rolled out its 'Magnum Opus' project, Maruti Celerio. Celerio comes loaded with, first time ever for a Maruti car, an Automated Manual Transmission (AMT), irrespective of the fact that gearless vehicles have never been received well by the Indian audiences. Maruti Celerio will put a fierece competition into place with the likes of Hyundai i10 and Chevrolet Spark. Lets have a detailed comparison of the trio on the basis of design, interior, performance, pricing & verdict.

Exterior Design & Appearance:

Commencing from the fresh arrival from Maruti's hub, Celerio; it doesn't possess an all new design philosophy yet its exceeds in length than its predecessor. In fact, the front fascia, some what resembles to company's existing car, Estilo. Its not that attractive, which usually Maruti cars are not, still it doesn't appear timid and clumsy. It is larger and designed in a better proportion. When it comes to the rear end of the hatch, it can be comfortably propounded that its nothing more, rather than a mere copy of Alto 800. Here, the only saving grace are the lines and creases at the side profile of the vehicle. If Hyundai i10 is looked upon, in terms of exterior appearance, it is evident that Hyundai designers have worked exceptionally hard in order to provide it an aggressive and bellicose front fascia. The maturity is worth a view in the front bumper which comprises of a much bigger air dam. The rear bumper consists of body coloured rub strip, which even makes it more classy. Angular tail lamps are a subsequent result of tonning and they appear striking and imposing than before. In all, the overall designing of the vehicle turns out to be a decent one, leaving aside some minors. Now, if we strike our attention towards Chevrolet Beat, then, unambiguously, its the best among the lot, owing to its innovatory and ahead of time designing in the B segment of cars. General Motors, at the recently concluded 2014 Auto Expo, launched its refreshed version which attracted several shutterbugs. The vehicle looked refurbished, courtesy the fresh front bumper, renovated front grille and inclusion of twin fog lamps. Addition of alloys and rear spoiler was icing on the cake. The amalgamation of each and every component in the exterior front was done in such a tidy and organized manner, that it stunned one and all. In all, If exterior design and appearance is your priority, then Chevrolet Beat is the undisputed emperor of this segment of cars.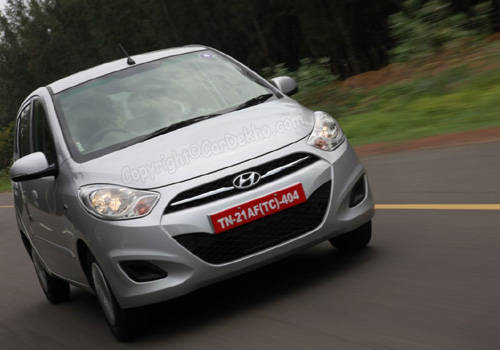 Interior Comfort:
Maruti cars have always been able to maintain a certain level of interior quality and Celerio is no exception. It is quite similar to the its other siblings in terms of interior quality and its more of a user friendly designing in the interiors. They are roomy, spacious and durable than the A-Star. If you have made your mind to witness something exciting, creative and innovative, which, generally, one doesn't aspire to see in Maruti cars, then you might get despair; otherwise everything is prime and on its place. Hyundai i10, on the other hand, inside the cabin, gives a feel of freshness and luxury. It comes with a dual tone finish with dashboard with a dark grey shading. Spaciousness is excellent for the front as well as rear passengers. As far as plastic quality is concerned, it emerges triumphant among the segment. Silver finish on the centre console, first-grade switchgear and perfect execution of plastic part is something that makes this hatch even more adorable. Last but certainly not the least, The Beat, is another masterpiece of elegance, skill and superior craftsmanship, inside the cabin. The plastic quality is top-notch but it lacks thigh sport, owing to the not-so-long seats. The switches have been incorporated with ample wisdom. The soft cushioning and the twin cockpit gestures the front passengers. Beat designers have worked rigorously to discover space in the vehicle wherever possible like the enlargement of door pockets. In all, Its a close call between Beat and i10, but Celerio certainly lacks those advancements and luxury inside the cabin.
Engine & Performance:
Engine & Performance, the core of an vehicle, is the most significant and sough after aspect of any car. If you can score here; there's no stopping you. Hence, companies try their level best to fulfill this department with the best they have got. Maruti has introduced Celerio with a 1.0-litre, 3-cylinder, 4-valve, K10B Aluminum unit which churns out a maximum power out output of around 67bhp at 6000rpm along with a peak torque performance of 90Nm at 3500rpm. It is coupled with Maruti's trusted 5-speed manual transmission. Surprisingly, there is also an automated manual transmission (AMT) on offer. Maruti, as mentioned in the opening para, without bothering slightly the story of painful past of such gearless vehicles in India, introduced this gearbox, and thus, made Celerio the first car in its segment to sport such a transmission. Manual transmission variants are definitely going to rake in a good moolah for the company but a little skepticism surrounds variants that come equipped with it. Hyundai i10, under the bonnet, has iRDE2 1.1-litre powertrain which belts out 68 bhp at 5500 RPM and torque of 99.08 Nm at 4500 RPM. It performs well inside the cities and as evident the mill is not so nasty hence it doesn't cope up with its city performance on the free flowing highways. Lastly, the Chevrolet Beat features a 1.2-litre, four-cylinder motor which pays no resemblance at all to the UV-A's 1.2-litre engine. This twin-cam, four-valve-per-head motor generates 79bhp at 6200rpm of maximum power output and max torque of 108Nm at 4400rpm. Certainly, the most powerful among the three, and it performs exceedingly well; though it doesn't break any grounds.
Pricing & Verdict:
Another factor that plays a pivotal role while deciding and judging which vehicle to buy, is pricing. In fact, it decides the fate of a car, at least in the B segment of cars. Maruti is always considered the champion as far as pricing of cars matters. And this time too, Maruti has displayed its skill, expertise and understanding of Indian market superbly as it has priced Celerio in a bracket of 3.90 - 4.96 Lakhs. Pricing is quite aggressive and if anything else not, it certainly is going to go Maruti's way. The i10 hatch comes in a price bracket of Rs. 3.87 - 6.39 Lakhs because of the AT transmission in the top end variants. On the other hand, Beat is a bit expensive than both of its contemporaries as it comes at Rs. 4.15 - 5.37 Lakhs; but as told earlier, its more powerful. If a final conclusion is drawn out of pricing, Maruti Celerio surely seems more lucrative and buyable; leaving behind both of its rivals comfortably.
Read More on : Hyundai i10 expert review
Was this article helpful ?
0 out of 0 found this helpful