Fiat Punto Evo Launched at Rs 4.55 lakh
Modified On Aug 07, 2014 05:12 PM By Akshit
Fiat India has launched the much-anticipated 2014 refreshed Punto, now known as Punto Evo at INR 4.55 lakh (Ex-showroom Delhi). Starting from Delhi today, Fiat will launch Punto Evo across 15 different Indian cities in 15 days, with the major launch scheduled in Mumbai on August 8, 2014. Fiat Punto Petrol model is priced bewteen Rs 4.55 to 6.65 lakh while the diesel model is priced in the range of Rs 5.27 lakh to Rs 7.19 lakh.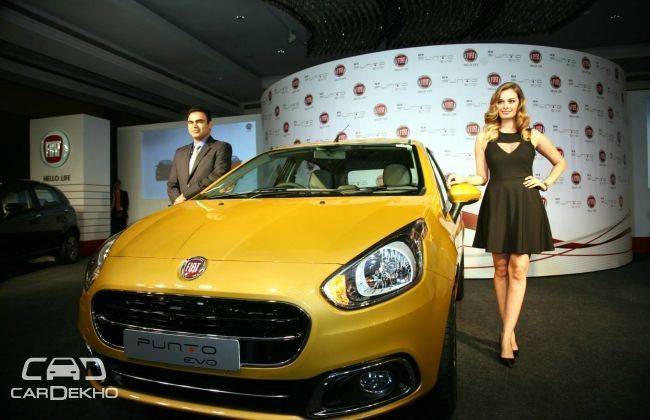 Speaking on the launch Mr. Nagesh Basavanhalli, President and Managing Director-FIAT Chrysler India Operations said, "We are now strengthening our product portfolio in India with cars that are designed and engineered keeping Indian conditions and need in mind. Punto Evo is a stylish, premium hatchback embodying Italian design flair making it a preferred choice of the style conscious buyers enabling to make life more interesting. We have strengthened our presence in India by opening 116 exclusive dealerships in 93 cities across 23 states, which provide world class service to our customers."

Fiat Punto Evo gets a re-designed front fascia, incorporating swept back head-lamps, aggressive front-grille and new bumper. The bonnet now carries a bulge with two prominent lines running down all the way to the Fiat logo in the grille. While, the chrome additions to the front and the fog-lamp surrounds help the Punto Evo look more premium than the earlier model. The side profile of the hatchback is essentially the same, but the new alloys give hatch's overall stance an edge. The changes at the rear include the 'Evo' badging, new LED rear-lamps and tweaked bumper. Fiat offers Punto Evo in seven exterior color options- Glitterati Gold, Magnesio Grey, Exotica Red, Minimal Grey, Hip Hop Black, Vocal White and Tuscan Wine.
The complete Price List is give below

Inside, the hatch gets an all-new dashboard, which looks quite similar to the elder sibling Linea. Fiat has ditched the earlier boxy layout and comes in a more rounded approach. The dashboard's design and dual-tone (black and beige) interiors come with all the variants of the Punto Evo except the Punto Evo 90, which sports an all-black premium interiors. In terms of equipment, the hatch offers Automatic Climate Control, and Blue and Me technology, well-equipped music system with USB, Aux-In, Bluetooth and voice recognition.

We already drove the media car and so we know some of the features and specification of 2014 Punto Evo:
1) The hatch will be offered in both petrol and diesel fuel trims. The petrol model gets 1.2-litre and 1.4-litre FIRE petrol engine, while the diesel gets 1.3-litre MJD powertrain.
2) The 1.2-litre gasoline engine develops a power of 67bhp and 96Nm of torque, while the peppier 1.4-litre offers 88.8bhp of max power and 115Nm of peak torque.
3) The standard diesel model offers a power of 75bhp and 200Nm of max torque, whereas the Punto EVO Sports features VGT turbo chargers that belts out 92bhp and 209Nm of peak torque.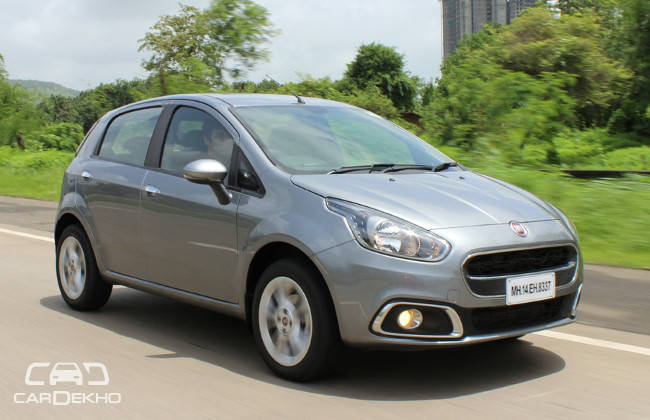 Live Coverage:
12.27 PM: Finally at 12.30, the launch event commences. #MoreIntersting is the social media tag for th Punto Evo Launch.

12.30 PM: Fiat India MD and President Nagesh Basavanhalli on the stage, talking on how Fiat went exclusive and established and 116 dealership across India.

12.32 PM: He is now explaining the three important pillars for brand's growth in India.
12.34 PM: The Punto EVO has been designed in Italy and as the prototype was not ready at the 2014 Delhi Auto Expo, the company didn't showcased it there.
12.36 PM: Fiat promised four new products this year, and with Linea and Punto Evo, the company is half way through the commitment it made. The remaining two Avventura and Abarth will be made available by the year end.
12.38 PM: Punto Evo offers, best in class ground clearance 195mm, and rides on the 16 inch alloy wheels.

12.40 PM: The car offers smart front and rear wipers, dual stage driver airbags and fire prevention system (FPS).
12.42 PM: Fiat says, though the car is designed in Itlay, it embraces Indian styling.
12.44 PM: The company says, Perfection is great, evolution is interesting.
12.46: Fiat Punto in the Glirati Gold is here with Exotica Red & Hip-Hop Black.

12.48 PM: Two Exotic beauties sharing the stage, 2014 Fiat Punto Evo and Evelyn Sharma.

12.54 PM: TVC for Fiat Puto EVO is being played.
12.56 PM: Prices announced, Fiat Punto Evo introdcued at 4.55 lakh (Ex-Showroom, Delhi)
1.00 PM: The top end is priced at Rs 7.19 lakh.

1.02 PM: Fiat Punto EVO will be avaible in Active, Emotion, Dynamic and Sports models.
1.18 PM : Read how well the Fiat Punto Evo stands against its Nearest rivals - Swift, 2014 Polo, and upcoming Hyundai Elite i20.