Hyundai Xcent
Change car
Rs.5.37 Lakh - 8.75 Lakh*
Hyundai Xcent is Discontinued and no longer Produced.
Key Specs of Hyundai Xcent
| | |
| --- | --- |
| Mileage (upto) | 25.4 km/kg |
| Engine (upto) | 1197 cc |
| BHP | 82.0 |
| Transmission | Manual/Automatic |
| Boot Space | 407-litres |
| Airbags | yes |
Explore Price of Xcent Alternatives

Hyundai Xcent price list (Variants)
Xcent Prime T Plus CNG BSIV1197 cc, Manual, CNG, 25.4 km/kgEXPIRED
Rs.5.37 Lakh*
 
Xcent Facelift1197 cc, Manual, Petrol, 19.1 kmplEXPIRED
Rs.5.50 Lakh*
 
Xcent 1.2 VTVT E1197 cc, Manual, Petrol, 20.14 kmplEXPIREDLess than 1 month waiting
Rs.5.81 Lakh*
 
Xcent 1.2 VTVT E Plus1197 cc, Manual, Petrol, 20.14 kmplEXPIREDLess than 1 month waiting
Rs.5.93 Lakh*
 
Xcent 1.2 VTVT S1197 cc, Manual, Petrol, 20.14 kmplEXPIREDLess than 1 month waiting
Rs.6.44 Lakh*
 
Xcent 1.2 CRDi E1186 cc, Manual, Diesel, 25.4 kmplEXPIREDLess than 1 month waiting
Rs.6.73 Lakh*
 
Xcent 1.2 CRDi E Plus1186 cc, Manual, Diesel, 25.4 kmplEXPIREDLess than 1 month waiting
Rs.6.83 Lakh*
 
Xcent 1.2 VTVT SX1197 cc, Manual, Petrol, 20.14 kmplEXPIREDLess than 1 month waiting
Rs.7.06 Lakh*
 
Xcent 1.2 VTVT S AT1197 cc, Automatic, Petrol, 17.36 kmplEXPIREDLess than 1 month waiting
Rs.7.34 Lakh*
 
Xcent 1.2 CRDi S1186 cc, Manual, Diesel, 25.4 kmplEXPIREDLess than 1 month waiting
Rs.7.42 Lakh*
 
Xcent 1.2 VTVT SX Option1197 cc, Manual, Petrol, 20.14 kmplEXPIREDLess than 1 month waiting
Rs.7.82 Lakh*
 
Xcent 1.2 CRDi SX1186 cc, Manual, Diesel, 25.4 kmplEXPIREDLess than 1 month waiting
Rs.7.99 Lakh*
 
Xcent 1.2 CRDi SX Option1186 cc, Manual, Diesel, 25.4 kmplEXPIREDLess than 1 month waiting
Rs.8.75 Lakh*
 
View All Variants
Hyundai Xcent Review
Exterior
Initial spy shots left a lot of people saying, "Oh god, why?", but much like the Mahindra TUV300, this is a car that looks better in person than in pictures. Additionally, it's now more distinctive, not only from its predecessor, but the Grand i10 as well.

The two-part grille is no more and is replaced by a plus-sized hexagonal unit, generously lined with chrome. It's got a new front bumper too with a sleeker set of fog lamps, and, not to mention, daytime running LEDs. The side profile remains the same, save for the engine badge on the front fender that reads '1.2D' instead of 'CRDi', highlighting the uprated engine size. Up top, the radio antenna is a shark-fin unit instead of the old antenna on the higher variants.

The rear end looks as if it were inspired by the Kia Rio. Some may even draw parallels with the Toyota Camry. Gone are the tiny old tail lamps and instead, you get a wider set of lights that occupy more real estate at the rear. The lights even get some internal detailing to make them look more distinctive. The boot-lid itself has been redesigned and sports a chunky chrome bar that connects the rear lamps. The bumper gets some aggressive contouring too, and while it will take a while for the new look to grow on many, the new Xcent does look more mature. Importantly, it still looks well-proportioned for a sub-4 metre sedan.
Exterior Comparison
Volkswagen Ameo
Hyundai Xcent
Length (mm)
3995mm
3995mm
Width (mm)
1682mm
1660mm
Height (mm)
1483mm
1520mm
Ground Clearance (mm)
165mm
165mm
Wheel Base (mm)
2470mm
2425mm
Kerb Weight (kg)
1163kg
-
Boot Space Comparison
Volkswagen Ameo
Maruti Dzire
Hyundai Xcent
Volume
330 Ltrs
378
407
Interior
Contrasting the relatively flashy exterior is a cabin that's sophisticated and like the Grand i10, offers segment-leading quality. Once in, you're welcomed by ergonomic perfection. All the controls fall to hand easily and things will feel familiar quickly even if you've never owned a Hyundai before.

The instrument cluster does look dated now, but it's easy on the eyes. However, Hyundai could have at least added a distance-to-empty and average fuel efficiency display to the MID with the facelift. An opportunity missed! Existing owners will immediately notice that the car gets new pure beige upholstery, which does make the cabin feel classier. What should have been added is adjustable headrests up front and height-adjustable seatbelts - things which wouldn't add much to the cost, but would add a lot of convenience. Apart from that, though, the seats are quite comfortable for city driving and can support large frames well, albeit snugly.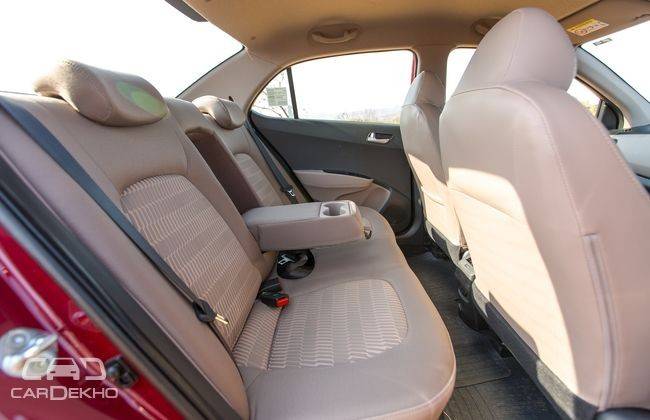 Right from the Getz, we've seen Hyundai's small cars make the best use of the cabin space available. Two six footers can sit one behind the other and the rear seat uses the car's width well enough to free up just about enough shoulder room for three abreast. A middle occupant can be seated fairly comfortably, but only over short journeys. The fixed central head restraint is too small for adults and the rear AC console does intrude into the leg space. All four doors get adequate space for 1-litre bottles, with more room for knick-knacks too. Boot space remains the same at 407-litres and three medium sized bags can fit in with ease. However, larger suitcases can be a bit tricky, because the wheel arches do eat into the trunk space.
Technology
Features like automatic climate control and rear AC vents are carried on like before and as you'd expect, the 7-inch touchscreen infotainment system offered with the updated Grand i10 finds a place here too. The display is very easy to use and gets the added benefit of Apple CarPlay and Android Auto. Even the touch response is good and we found no issues with lag, while the addition of voice commands adds some more convenience. The automatic variant, which isn't available with this screen gets a mobile phone dock atop the dashboard, which is a thoughtful touch.

You do have to take your eyes off the road to use the touchscreen, but it's been well-integrated and doesn't look like an aftermarket add-on. The Xcent is still expectedly feature loaded, but Hyundai has sliced off goodies like the auto-dimming interior rearview mirror and the cluster ionizer (keeps the air inside the car clean and odour free). These features certainly added to the Xcent's value proposition, but their absence won't be a deal breaker for most.
Safety
Hyundai now offers dual front airbags as standard across the Xcent's variant range. The top three variants also get rear parking sensors, while the top two get a reversing camera with the feed relayed to the touchscreen infotainment system. However, while ABS was a standard offering, it's now limited to the range-topping SX and SX (O) grade. At the least, ABS should have been optional for the lower variants.
Performance
Performance
With 75PS of power and 190Nm of torque at its disposal, the Xcent is now more potent than before. It's the same 1.2-litre diesel engine offered in the updated Grand i10 and feels very similar to use. Hit the push button starter and the motor announces its awakening with a noticeable amount of vibrations that only smoothen out once you're on the move.
Once you get going, though, in mere seconds you understand that this powertrain is ideal for the city. The clutch is light and bites early, and you can crawl ahead without actually needing to use the accelerator pedal. Dab the A-pedal and progress is quick. The Xcent is, of course, heavier than the Grand i10 and the gearing does seem to have been tweaked a bit too. So while the Grand had no perceptible turbo-lag, it is noticeable in the Xcent. Understandably, it isn't as quick as the Grand i10 with a tested 0-100kmph time of 16.20 seconds (nearly 3 seconds slower than the G10). Even the in-gear acceleration isn't as rapid with the rise from 30-80kmph taking 9.82 seconds (1.89 seconds more than the Grand i10), but then again the Xcent is the bigger car, so the performance difference is reasonable.
However, by no means is it underserved as there's enough grunt below 2,000rpm to make smooth headway. City speeds of 40-60kmph can be hit without much throttle input, since the peak torque is delivered from as low as 1,750rpm. Thanks to the healthy low-rev performance, it's also easy to get a good fuel efficiency figure, with our tests getting us 19.04kmpl in the city and 23.87kmpl on the highway.
The best way to pick up the pace is to shift up around 2,800-3,000rpm. Revving the motor further makes it feel strained and get louder, but power tapers off quickly. There's no use of teasing the redline with this engine and while rivals like the Aspire and Ameo offer exhilarating performance, the Xcent gives you exactly how much you need – nothing more, nothing less.
There's a healthy mid-range as well, so sharp inclines can be taken in 2nd or 3rd gear and you can let the revs drop a fair bit before the need to shift down a cog comes up. Out on the highway, the Xcent will gladly do speeds of 100-120kmph without breaking a sweat. It can go well beyond that too, but it prefers cruising at a constant speed over brief high speed runs. The snappy gearbox is great to use and the gear gates are well defined, making the Xcent pleasant to drive, if not exciting. We did, however, face some resistance while trying to slot it into reverse.
Performance Comparison (Diesel)
Hyundai Xcent
Volkswagen Ameo
Power
73.97bhp@4000rpm
108.495bhp@4000rpm
Torque (Nm)
190.25nm@1750-2250rpm
250Nm@1500-3000rpm
Engine Displacement (cc)
1186 cc
1498 cc
Transmission
Manual
Automatic
Top Speed (kmph)
156 Kmph
0-100 Acceleration (sec)
Kerb Weight (kg)
-
1184kg
Fuel Efficiency (ARAI)
25.4kmpl
22.0kmpl
Power Weight Ratio
-
91.63bhp/ton
Performance Comparison (Petrol)
Volkswagen Ameo
Maruti Dzire
Hyundai Xcent
Power
73.75bhp@5400rpm
88.50bhp@6000rpm
81.86bhp@6000rpm
Torque (Nm)
110Nm@3750rpm
113Nm@4400rpm
113.75nm@4000rpm
Engine Displacement (cc)
1198 cc
1197 cc
1197 cc
Transmission
Manual
Manual
Manual
Top Speed (kmph)
172 Kmph
0-100 Acceleration (sec)
Kerb Weight (kg)
1069kg
880-915
-
Fuel Efficiency (ARAI)
17.0kmpl
23.26kmpl
20.14kmpl
Power Weight Ratio
68.98bhp/ton
-
-
Ride and Handling

The Xcent's suspension setup remains unchanged and is still comfort-set as before. At low speeds, it's very comfortable and offers great bad road ability as well. Additionally, it rides quite flat and is very stable over undulations/bridge joints even beyond 120kmph. However, there is a noticeable amount of vertical movement and through fast corners, body roll is perceptible. There's a good amount of stopping power on offer too with the car dropping from 100-0kmph in 45.89 metres, while feeling a little more surefooted than the Grand i10 during the test.
The steering doesn't offer much feedback, but is light enough for city usage, weighs up well with speed and is responsive too. In everyday conditions, there's no guesswork involved. It won't please any driving enthusiasts, but that's hardly what the Xcent has been designed for. Overall, the handling mannerisms are predictable and novice-friendly.
Variants
The Xcent is currently available in 5 variants (earlier 4) – E, E+, S, SX and SX (O). If you're on a strict budget, we recommend opting for the E+ at the least. For Rs 55,000 over the base E spec, you get body coloured door handles and wing mirrors, a day/night interior mirror, full wheel covers and a rear armrest with cupholders. It also adds 2-DIN radio with AUX/Bluetooth/USB connectivity, steering mounted audio and telephony controls, and 4 speakers. Handy features like rear AC vents and electrically adjustable wing mirrors are thrown into the kitty as well. Overall, even fleet buyers should consider opting for this variant.
The best value is offered by the SX variant. It gets a rear camera, anti-lock brakes and 14-inch alloy wheels. It also gets the 7-inch touchscreen infotainment with Android Auto and Apple CarPlay connectivity, voice recognition and a driver seat height-adjuster. Overall, this variant strikes a healthy balance between need and want features.
For nearly Rs 80,000 over the SX, you can get the SX (O) which gets smart key, chrome door handles, 15-inch Diamond Cut alloy wheels and a leather steering wrap. It also gets a push button starter and automatic climate control. The premium it commands is justified, but the features added improve the feel-good and convenience factors only. They are features we like, but not goodies you necessarily need.
Verdict
Hyundai has played it safe with the Xcent facelift. The car looks brand new, but the essential package remains the same.
What's more, is that the prices haven't seen a significant hike, making the new car a better value proposition. Overall, it certainly is a better machine than before and yes, the new Xcent is a good option for family car buyers. However, with the Tata Tigor now here and the new Dzire almost here, its competition is only getting tougher than before.
Pros & Cons of Hyundai Xcent

CarDekho Experts:
The new diesel engine improves the car's driveability, while features like the touchscreen infotainment system bring some much needed modernity to the table
Things We Like
Easy to use touchscreen infotainment system with Android Auto and Apple CarPlay. connectivity
Premium interior quality. Feels like you're in a car from a segment above.
Spacious passenger and luggage space; convenience features very well thought out.
Peppy diesel engine - extra torque helps it potter around town easily.
Dual airbags equipped as standard across the range.
Things We Don't Like
ABS no longer offered as standard. Limited to the top-two variants.
Diesel engine is great in the city, but lacks top-end punch for the highway.
MID misses out on basic info like a distance-to-empty counter or an average efficiency display.
Adjustable front headrests, height-adjustable seatbelts, dead-pedal not offered on any variant.
No diesel automatic offered like the Zest, Dzire and Ameo.
Stand Out Features
Touchscreen infotainment system with Android Auto, Apple CarPlay and MirrorLink. 

Rear AC vents.
Specification of Hyundai Xcent
| | |
| --- | --- |
| ARAI Mileage | 25.4 km/kg |
| City Mileage | 19.04 km/kg |
| Fuel Type | CNG |
| Engine Displacement (cc) | 1197 |
| No. of cylinder | 3 |
| Max Power (bhp@rpm) | 73.97bhp@4000rpm |
| Max Torque (nm@rpm) | 190.24nm@1750-2250rpm |
| Seating Capacity | 5 |
| TransmissionType | Manual |
| Boot Space (Litres) | 407 |
| Body Type | Sedan |
| Ground Clearance Unladen | 165mm |
Hyundai Xcent User Reviews
All (311)
Looks (65)
Comfort (92)
Mileage (95)
Engine (43)
Interior (29)
Space (54)
Price (35)
More ...
LATEST
HELPFUL
VERIFIED
CRITICAL
I have owned two Hyundai Xcent base model for tourist purpose, one out of that car clutch plate I changed at 198000km which was even working fine but to avoid sudden brea...Read More

I am fully satisfied, Low-cost maintenance, Excellent mileage at low cost, Music Systems sound Quality very good.. Thanks, Hyundai.

Amazing car and part of my life. Traveled length and breadth of South India and both the car and me never got tired. Always roaring to goooo.

Hyundai Xcent is the best car which I have ever I used, It had a very good pickup with less maintenance cost.

It is not good for traveling the city drive. Its body is not solid. This car is really bad. Not value for money. Hyundai scam with us.
Hyundai Xcent Latest Update
Latest Update: Hyundai is expected to launch a CNG variant of the Xcent soon.
Hyundai Xcent Price: Hyundai launched the facelifted Xcent in April last year. Priced between Rs 5.81 lakh and Rs 8.79 lakh (ex-showroom Delhi), it comes in four variants: E, S, SX and SX(O).
Hyundai Xcent Engine:The Xcent can be had with both petrol and diesel engines. The 1.2-litre, 3-cylinder diesel engine produces 75PS and 190Nm and is paired with a 5-speed manual transmission. The 1.2-litre, 4-cylinder petrol engine, on the other hand, puts out 83PS and 114Nm. It can be had with either a 5-speed manual or a 4-speed automatic transmission. The petrol automatic option is only available with the S variant. While the manual petrol variant has a claimed fuel efficiency of 20.14 kmpl, the automatic variant returns 17.36 kmpl. Diesel variants return a mileage of 25.4 kmpl.
Hyundai Xcent Features: The Xcent is offered with a 7-inch touchscreen infotainment system with Apple CarPlay and Android Auto, automatic climate control with rear AC vents, electrically foldable and adjustable ORVMs, push-button start, rear parking camera with sensors, height adjustable driver seat and tilt steering. It gets dual front airbags and ABS with EBD as standard.
Hyundai Xcent Competition: The Xcent competes with the likes of the Maruti Suzuki Dzire, Tata Tigor, Honda Amaze, Ford Aspire, Volkswagen Ameo and the Tata Zest. While it is a successor to the Xcent, the latter will soldier on alongside just like the Grand i10 Nios and the Grand i10. While the Aura is a successor to the Xcent, the latter will continue to be sold alongside the Aura just like the Grand i10 Nios and the Grand i10.
Read More



Are you Confused?
Ask anything & get answer in 48 hours
Write your Comment on Hyundai Xcent
58 comments
1
L
lucky thakur
Jul 11, 2021 4:54:21 PM
Hyundai ki xcent Ki bahut hi kharb gadi he mere or meri family me jitni hyundai ki car thi sab bikwa diya or me kisi ko salah nai deta hyundai ki gadi lene ko apne dushman ko bhi nai
Read More...
Reply
Write a Reply
1
S
sonu kumar
Nov 18, 2020 8:33:17 PM
Glass ka price
Read More...
Reply
Write a Reply
1
s
sekhararao thulluri
Nov 18, 2020 5:07:10 PM
AP 27BS6789 HYUNDAI XCENT SERVICE BILLS LOST, HOW CAN I GET THEM
Read More...
Reply
Write a Reply
*Ex-showroom price in New Delhi
×
We need your city to customize your experience