Audi Q3
Change car
Rs.32.20 Lakh - 43.61 Lakh*
Audi Q3 is Discontinued and no longer Produced.
Key Specs of Audi Q3
| | |
| --- | --- |
| Mileage (upto) | 18.51 kmpl |
| Engine (upto) | 1968 cc |
| BHP | 184.0 |
| Transmission | Automatic |
| Boot Space | 460-litres |
| Airbags | yes |
Explore Price of Q3 Alternatives

Audi Q3 price list (Variants)
Q3 1.4 TFSI1395 cc, Automatic, Petrol, 17.32 kmplEXPIRED
Rs.32.20 Lakh*
 
Q3 2.0 TDI1968 cc, Automatic, Diesel, 17.32 kmplEXPIRED
Rs.34.20 Lakh*
 
Q3 30 TFSI Premium FWD1395 cc, Automatic, Petrol, 16.9 kmplEXPIRED
Rs.34.97 Lakh*
 
Q3 30 TDI Premium FWD1968 cc, Automatic, Diesel, 18.51 kmplEXPIRED
Rs.36.77 Lakh*
 
Q3 2.0 TDI Quattro1968 cc, Automatic, Diesel, 17.32 kmplEXPIRED
Rs.37.20 Lakh*
 
Q3 35 TDI Dynamic Edition1968 cc, Automatic, Diesel, 15.73 kmplEXPIRED
Rs.39.78 Lakh*
 
Q3 35 TDI Quattro Premium Plus1968 cc, Automatic, Diesel, 15.17 kmplEXPIRED
Rs.39.92 Lakh*
 
Q3 Design Edition 35 TDI quattro1968 cc, Automatic, Diesel, 15.17 kmplEXPIRED
Rs.40.76 Lakh*
 
Q3 35 TDI Quattro Technology1968 cc, Automatic, Diesel, 15.17 kmplEXPIRED
Rs.43.61 Lakh*
 
View All Variants
Audi Q3 Review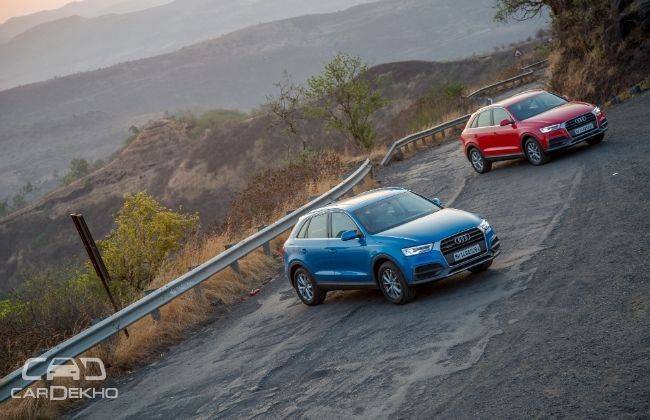 When the Q3 first landed on Indian shores back in 2012, it was a runaway success for the Ingolstadt-based brand. The mini-SUV looks paired with the bragging rights of the four-ringed badge meant that the Q3 was quickly lapped up. But, it always had it's share of negatives - it wasn't all that involving to drive, the equipment list seemed sparse for the money and it wasn't as flamboyant as its rivals.
While the first update for the SUV (in 2015) focussed purely on aesthetics, the changes are mechanical this time round. The diesel engine is a notch more powerful, and, more importantly, there's finally a petrol engine under the bonnet. Have the updates plugged all the gaps in the Q3's formula? We sampled the petrol as well as the diesel avatar of Audi's entry-level SUV to find out just that!
Exterior

You would have to be a hardcore Audi geek to spot the difference between the 2017 facelift and the 2015 version. We'll save you the trouble — there are just two. The front bumper has been redesigned, with the faux air inlet being slightly larger than before. Secondly, there's an added dose of cladding that gives it a typical rough-roader look.

Everything else remains identical to the outgoing version. But, that's not a bad thing. The all-LED headlamps look slick, and the daytime running lamps grab attention. The dynamic turn indicator (LEDs blink sequentially in the direction of the turn) is a cool party piece too. What we particularly like are the loud colours the Q3 is offered with. The Aqua Blue and Bright Red shades you see in the pictures look stunning and suit the youthful nature of the Q3 quite well. We recommend skipping the subtle black, white and silver and look at these instead — they transform the little SUV into a head turner.

The Q3 is unmistakably Audi in its design. Aesthetically, it might not have the flair of a GLA, but with its crisp lines and upright stance, it is definitely likeable. To put it simply, the little Audi looks more like a scaled-down SUV than a blown-up hatchback.
Measuring in at 4388mm x 1831mm x 1608mm (l x w x h), the Q3 isn't the longest or tallest in its class, neither has the largest wheelbase. The BMW X1 is a full 51mm longer (and 10mm taller), while the Mercedes-Benz GLA has a 96mm longer wheelbase. The Audi is the widest car of the lot, measuring 10mm wider than the BMW and 27mm wider than the Mercedes.
Exterior Comparison
Audi Q3
Volkswagen Tiguan 2017-2020
Length (mm)
4388mm
4486mm
Width (mm)
2019mm
1839mm
Height (mm)
1608mm
1672mm
Ground Clearance (mm)
170mm
149mm
Wheel Base (mm)
2603mm
2677mm
Kerb Weight (kg)
1520kg
1720kg
Boot Space Comparison
Audi Q3
Volkswagen Tiguan 2017-2020
Volume
460-litres
615
Interior

The interiors have remained largely unchanged since its debut in 2012. Step inside the Q3 and the age of the design immediately comes to the fore. In today's age of big central touchscreens that control practically everything, Audi's old-school dash looks cluttered. The rotary knobs for the dual-zone climate control and the tiny multi-information display wedged between the speedo and tacho don't look all that premium anymore. However, compare that to the A4's touch-sensitive climate control interface and the virtual cockpit, and you know the Q3 is due for a generation leap.

But, ignore that for a bit and it comes across as thoroughly practical and usable. The electric seats (now standard across the range) offer a healthy range of travel for reach and height, and the tilt-telescopic adjust on the steering only makes it easier to slip into a comfortable driving position. All doors house a sizeable bottle holder, and there's a generous 420-litre boot as well.

The rear bench isn't particularly roomy, but there's enough space for the average Indian. The Q3 is a strict four-seater in our books. The transmission tunnel that runs through the spine of the floor is quite high which eats into foot room for the middle occupant, and the rear air-conditioning takes up crucial millimetres of knee room. Use it as a car for four, and it doesn't disappoint. The massive panoramic sunroof adds a sense of space to the cabin.

Again, the basics are in place - the ergonomics are right, the build quality is upmarket and there's enough space for four and their luggage. It lacks the wow factor that the GLA's cabin has, but makes up for it by offering practicality.
Technology

Infotainment duties on the top-spec Technology variant are handled by Audi's 'MMI Navigation High' system, paired to an 180W 10-speaker setup. The 6.5-inch screen acts as the command centre and can be controlled using the dial and buttons on the centre console. It isn't a touchscreen interface, but the upside to that is you can use it on the go without taking your eyes off the road.
While it is easy to get used to, the graphics and the interface does seem dated. Also, what's particularly surprising is the lack of a USB port. Naturally, there's no Android Auto or Apple CarPlay on offer either. This means you need to pair your phone via Bluetooth for the music and the calls, and rely on the car's navigation system. This also forces you to use the 12V socket that's placed inside the central armrest. Not very convenient. That aside, the infotainment unit does feature an in-built 20GB hard-drive (that can be used to store songs via the Audi 'Jukebox') and SD card-based navigation.
Safety
The Q3 features a total of six airbags that are standard across the range. Also standard are anti-lock brakes with electronic brakeforce distribution and brake assist. Other safety tech includes electronic stability program (ESP), hill-descent control and traction control (ASR). The top-spec Technology variant additionally features a rear parking camera over the standard rear parking sensors.
Safety Comparison
Audi Q3
Volkswagen Tiguan 2017-2020
Anti-Lock Braking System
Standard
Standard
Central Locking
Standard
Standard
Power Door Locks
Standard
Standard
Child Safety Locks
Standard
Standard
Anti-Theft Alarm
Not Available
Not Available
No of Airbags
-
6
Day & Night Rear View Mirror
Standard
Standard
Performance
30 TFSI

Let's talk about the new engine first, shall we? The 1.4-litre turbocharged petrol motor has done duty under the hoods of a lot of cars in the Volkswagen-Audi family. Under the Q3's bonnet it runs the familiar 150PS/250Nm tune we've seen in the A3 and the A4.
Start the Q3 up, and you'll realize the noise levels are a notch higher than what you were expecting. Get going and the engine's thrummy noise continues to be audible. Look past (or hear past) the noise, and the turbo-petrol seems just about enough to carry the heft of the near two-tonne SUV. Drive around with a light foot, and the Q3 is easy to drive. The engine too feels at ease pottering around the city. You won't really feel the turbo kick in unless you stomp on the accelerator pedal. For most overtakes, a gentle increase in throttle input is enough to get you past. Get a bit too adventurous with the throttle, and the Q3 pushes you into the back of your seat with a sudden surge of torque.Go easy on the A-pedal, and driving the Q3 1.4 is cakewalk.
It's is reasonably efficient too - returning 10.24kmpl inside the city, and 14.56kmpl on the highway. What maximises the fuel efficiency number is the petrol Q3's 'Efficiency' mode that is coupled with the auto-start-stop tech that switches the engine off when you come to a halt and restarts once you lift off the brake pedal. In this mode, the throttle response is dulled out a bit. When you accelerate, there's a second worth of lag before power actually kicks in. If you're on a highway cruise in this mode, you will need to plan your overtakes. On a related note, the effectiveness of the air conditioning takes a hit in this mode. We'd avoid this mode purely because it left us sweaty at the end of our fuel efficiency test.

Other driving modes on Audi's 'Drive Select' include 'Comfort', 'Auto' and 'Dynamic'. Toggling between the three alters throttle and gearbox responsiveness. That said, there isn't a day and night difference between the modes, and 'Auto' mode works just fine for the daily drive. In 'Dynamic', the Q3 feels slightly eager to make progress — the gearbox is usually in one gear lower and lets the engine rev up all the way to the redline. This isn't particularly useful in day to day use, and we'd recommend switching to it only for that uphill drive around the ghats where you feel the need for all the power all the time. On test, the Q3 clocked a 0-100kmph time of 12.05 seconds.
The star of the package has got to be the 'S-tronic' gearbox. The 6-speed dual-clutch automatic is quick to respond to throttle inputs. If you slam the accelerator pedal to the floor, it downshifts a couple of gears - giving you the power you need to make a quick overtake instantly. Unlike the diesel version, the petrol variant does not get paddle shifters. But, we didn't really miss it since the gearbox practically reads your mind.
35 TDI

With the update, the Q3 Quattro has earned a power bump of 7PS. Is the added power noticeable? Nope. But, compare it to the petrol variant, and it feels like a completely different car. The extra 130Nm of torque makes its presence felt, especially when you are on a highway drive. Put your foot down, and the diesel Q3 lunges forward with gusto. You can be assured keeping the throttle pinned will have you go past the car in front. The numbers are proof: the diesel Q3 is quicker to 100kmph by 3.38 seconds (thank you Quattro!), at 8.67 seconds, whereas in-gear acceleration from 20-80kmph is quicker by nearly two seconds (5.62 seconds vs 7.35 seconds).
Power delivery is nice and smooth, and there's no annoying turbo lag that'd hold you back in traffic. Most of this is down to the 7-speed dual-clutch gearbox, which does a really good job of selecting the right gear. Yes, there are paddle shifters on offer, but we rarely had to use them while testing the car. Surprisingly, the diesel engine is appreciably silent inside-out during idle. Push it, and it lets out a grumbly sound which is oddly likeable. In case you do not like the sound of a diesel engine, even moderate volume on the music system will cancel it out.
The diesel Q3 doesn't feature an efficiency mode, nor does it have the auto start-stop tech. In spite of that, and being heavier, it proved to be significantly more efficient — returning 12.84kmpl inside the city and 18.5kmpl on the highway.
Ride and Handling

Inside the city, the Q3's ride will give you next to no reason to complain. Broken road surfaces are dismissed with a muted thud. More importantly, the cabin doesn't get upset too easily while dealing with potholes. What's not so good is that the tyres are slightly noisy. The sound intrudes into the cabin, which does dampen the premium experience a bit.
The suspension does have a bias for comfort, which becomes apparent once you start getting up to triple digit speeds. The cabin has a 'floaty' feeling, as it exhibits some vertical bobbing. This is particularly apparent in the petrol version, the diesel does fare slightly better. But the bumpiness felt amplified on the Mumbai-Pune Expressway where, in the Q3's defence, the concrete surface isn't in the best of shapes to begin with.
In case you're looking for some driving pleasure, we'd recommend you look elsewhere. The steering (in typical Audi fashion) feels too light and lacklustre. It is clearly set up for convenience and not fun. What we liked is the super light-weight wheel inside the city. It takes next to no effort to manoeuvre the Q3 in traffic, and parking is a no-stress affair. We would have liked the steering to weigh up a bit more as the speeds climbed.
It's a similar story around a set of winding roads. You have to keep guessing what the front wheels are up to. This, in effect, means you have to correct the steering input constantly to make the Q3 corner like you want it to. Being a tall SUV, there's some body roll as well. It won't upset the occupants if you go around corners at low speed. However, speed up a bit and the Q3 will cause passengers to reach for the grab handles to stay seated where they are.
For the twisties, it's the Quattro-equipped diesel that we'd pick. It feels more planted, holds its line and the all-wheel drive gives you enough grip to throttle out a lot faster from the corner.
Performance Comparison (Petrol)
Audi Q3
BMW X1
Power
148bhp@5500-6000rpm
189.08bhp@5000-6000rpm
Torque (Nm)
250nm@1500-3500rpm
280nm@1350-4600rpm
Engine Displacement (cc)
1395 cc
1998 cc
Transmission
Automatic
Automatic
Top Speed (kmph)
202 Kmph
226 Kmph
0-100 Acceleration (sec)
8.9 Seconds
7.7 Seconds
Kerb Weight (kg)
1520kg
-
Fuel Efficiency (ARAI)
17.32kmpl
14.82kmpl
Power Weight Ratio
97.36bhp/ton
-
Performance Comparison (Diesel)
Audi Q3
Volkswagen Tiguan 2017-2020
Power
184bhp@4200rpm
141bhp@4000rpm
Torque (Nm)
380Nm@1750-2500rpm
340Nm@1750-2750rpm
Engine Displacement (cc)
1968 cc
1968 cc
Transmission
Automatic
Automatic
Top Speed (kmph)
202 Kmph
0-100 Acceleration (sec)
9.9 Seconds
Kerb Weight (kg)
1520kg
1720kg
Fuel Efficiency (ARAI)
17.32kmpl
16.65kmpl
Power Weight Ratio
121.0bhp/ton
81.97bhp/ton
Variants
The Q3 is available in a total of three variants with varying engine options. Features standard across the range include all-LED headlamps, 17-inch alloy wheels, panoramic sunroof, six airbags and electric seats. The all-wheel drive diesel version additionally gets paddle shifters, SD-card-based navigation, a reverse camera and a coloured multi-information display.
Verdict
A lot of optional kit is now standard across the range, costs for which are included in the asking price. To answer our first question, no - the Audi Q3's gaps have not be plugged. The only noteworthy upgrade is the new petrol motor.
The petrol Q3 serves as a nice stepping stone into the world of Audi, as it remains a sensible all-rounder that gives you a healthy blend of familiarity, good quality, space for four and some snob value. Yes, the engine isn't too much fun to drive, but we always have the diesel all-wheel drive version to make up for it.
Pros & Cons of Audi Q3

CarDekho Experts:
The petrol Q3 serves as a nice stepping stone into the world of Audi, as it remains a sensible all-rounder that gives you a healthy blend of familiarity, good quality, space for four and some snob value.
Things We Like
Loaded with features - panoramic sunroof, electric seats, LED headlamps. Feels well loaded for the price.
Impressive build quality inside out. Feels built to last.
Things We Don't Like
Interior design is beginning to show its age. Looks out of place on a Rs 40-lakh SUV.
Forget Android Auto and Apple CarPlay, a simple USB port is missing.
High transmission tunnel makes the Q3 a strict four-seater
Not as fun to drive as its rivals. More power and heavier steering would've made it a lot more engaging.
Stand Out Features
LED headlamps with dynamic turn indicators

Quattro all-wheel drive tech can help with mild off-roading.
Specification of Audi Q3
| | |
| --- | --- |
| ARAI Mileage | 17.32 kmpl |
| City Mileage | 14.25 kmpl |
| Fuel Type | Petrol |
| Engine Displacement (cc) | 1395 |
| No. of cylinder | 4 |
| Max Power (bhp@rpm) | 148bhp@5500-6000rpm |
| Max Torque (nm@rpm) | 250nm@1500-3500rpm |
| Seating Capacity | 5 |
| TransmissionType | Automatic |
| Boot Space (Litres) | 460 |
| Fuel Tank Capacity | 64.0 |
| Body Type | SUV |
| Ground Clearance Unladen | 170mm |
Audi Q3 User Reviews
All (29)
Looks (10)
Comfort (13)
Mileage (5)
Engine (5)
Interior (9)
Space (3)
Price (4)
More ...
Happy with experience and pleasure to drive in the city either highway, it has a maximum amount of leg space and very luxurious.

We have Q3 since 2014 and till now the car is in the best conditions, the front bumper is top-notch and the rear bumper is also very good ( can be better ) you can ...Read More

This car is great in its segment. The interior and comfort and it offers are nice. The alloy wheels and headlamps are stunning.
Q3 Latest Update
Latest Update: Audi has unveiled the 2019 Q3. It gets an all-new design which is inspired by the flagship Q8. The new Q3 is based on the Volkswagen group's MQB platform and is larger than its predecessor in size. Audi has also introduced a new 1.5-litre turbocharged petrol with the second-gen SUV. To know more, click here.
Audi Q3 Design Edition: The Audi Q3 Design Edition is available in the country at a starting price of Rs 40.76 lakh (ex-showroom India). It can be had with a diesel engine option only. Check out more details here.
Audi Q3 Variants & Prices: The Audi Q3 is available in three variants currently: Premium, Premium Plus and Technology. While the Premium variant is available with both petrol and diesel engine options, the other two only come with diesel motors. Prices of the Q3 start from Rs 34.73 lakh and go up to Rs 42.88 lakh (ex-showroom pan-india).
Audi Q3 Engine: The Q3 can be had with a 1.4-litre (150PS/200Nm) petrol engine coupled to a 6-speed AT and a 2.0-litre (150PS/340Nm) diesel engine mated to a 7-speed AT. However, in the Premium Plus and Technology variants, the Q3 is powered by the uprated version of the 2.0-litre diesel engine that generates 183PS/380Nm. Power from this engine is sent to all four wheels of the SUV via 7-speed dual clutch transmission and the Quattro 4WD system.
Audi Q3 Features: Being a premium SUV, the Q3 comes with a host of features. For safety, it is equipped with six airbags, ABS, traction control, electronic stability control and ISOFIX child seat anchors. Other features on offer include automatic LED headlamps with DRLs, rain-sensing wipers, panoramic sunroof, electric front seats, auto-dimming IRVM, dual-zone climate control, 7-inch infotainment screen with navigation and 10-speaker Audi sound system, hill launch assist, hill descent control, cruise control and reverse parking camera with sensors.
Audi Q3 Rivals: The Q3 takes on the likes of the BMW X1, Mercedes-Benz GLA and Volvo XC40.
Read More



Are you Confused?
Ask anything & get answer in 48 hours
Write your Comment on Audi Q3
40 comments
1
G
gian kataria
Dec 12, 2020 11:35:29 AM
There are no qualified technicians foe servicing & repairing of Audi Q3
Read More...
Reply
Write a Reply
1
R
rahul raj
Feb 9, 2020 11:31:30 AM
Audi Q3 is a perfect compact suv car in which u get a complete package of all perfect SUV features, performance and handling audi never compromise and when comes to the safety audi Q3 never negotiate.
Read More...
Reply
Write a Reply
1
G
gaurav m rau
Sep 4, 2014 9:34:25 AM
Audi Q3 / 2 TFSI (Petrol) rolls on the road....great feeling.
Read More...
Reply
Write a Reply
Trending Audi Cars
Audi A8 L 2022

Rs.1.40 - 1.55 CrEstimated Price

Expected Launch: Jun 25, 2022

Audi Q3 2022

Rs.40.00 LakhEstimated Price

Expected Launch: Aug 02, 2022

Audi A3 2023

Rs.35.00 LakhEstimated Price

Expected Launch: Jan 02, 2023
*Ex-showroom price in New Delhi
×
We need your city to customize your experience