Almost 15 years ago when the Japanese auto giant Toyota Motor Corp. rolled out the Prius, it was considered as an odd niche car but who would have thought then that it would turn out to being one of the world's best selling cars. This odd hybrid transformed into a mainstream hit in the first quarter on account of the demands and incentives of US in Japan. Toyota Prius witnessed its sales getting doubled soon after its name was extended to the four-model family of vehicles, which attracts tax breaks and rebates in Japan of over $2,500. The sales of 247,230 in the quarter were surpassed only by two cars – Toyota Corolla at 300,800 units and Ford Focus 277,000 units.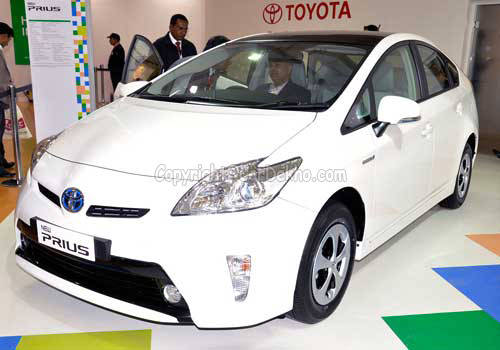 Toyota had been facing tough times from past two years because of the recalls, production issues and natural disasters but finally with the boost in the sales of Toyota Prius this Japanese giant has taken a sigh of relief. Toyota is already leading the global sales for the first three months of this year and the much-favoured hybrid line has contributed three cars to the top 10 models of US this year which also includes the midsized sedan Camry. Experts suggest that the sales and ranking of Toyota Prius proves that the car was not a fluke and there is big and long-lasting demand of hybrid cars.
Last year, the automotive industry of Japan was struck bad by the earthquake and tsunami, which resulted in decreased auto production; in order to overcome the decreased domestic deliveries the government started encouraging the purchase of fuel-efficient vehicles in December last year. The government is offering rebates of around 100,000 yen or $1,258 from a 300 billion yen fund that is specifically set for cars that include the Prius hatchback, plug-in, wagon and Aqua subcompact which is sold in the US car market and other markets as Prius C. The price tag for the Toyota Prius in Japan is around 2.5 million yen and around $25,000 in the United States.
The Aqua subcompact is the best-selling car in Japan at the moment which tripled the first quarter sales of the Toyota Prius family to 175,080 units against 52,507 units last year. The 300 million yen funding might be exhausted by the end of July but the government is sure to continue to offer rebate in tax till 2015. Auto experts suggest that the simultaneous happening of introduction of Aqua and initiation of government subsidies has proved to be a real good thing and also that success involves a lot more things than just the incentives from the government.
Read More on : Toyota Prius review