Toyota Etios is the only car from Toyota, which has a very old and an unappealing style. The centrally mounted instrument cluster and the black theme on the dashboard are also unable to allure the riders. But at the same time ,the sales of the Toyota Etios sedan class and Toyota Etios Liva hatchback are remarkable with the sales of 4270 units of the sedan and only 2587 units of the hatchback in May 2012. The majority of sales of Etios is from the taxi segment, which have started to use the car in there fleet. Now to make this sapless car a little more attractive, Toyota Motors dealers have fetched out a new way for it.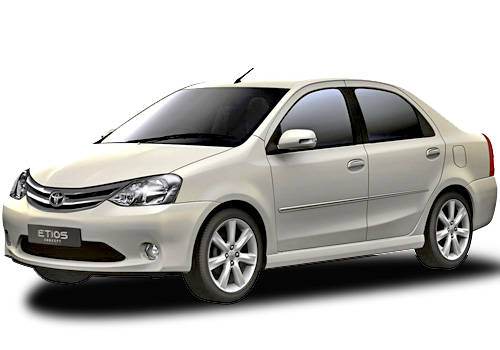 Most of the dealers of Toyota India are not much perplexed about the Etios siblings because of the main focus on Innova which is the beast selling car of the Toyota Motors and comprises of a major portion of their profits. Adding to it is the Fortuner which also continues to be the highest selling car in its segment. But few dealers are planning to push the sales of the Etios by offering a full range of accessories and upgrades in the car. The Beige Interior is one of the various upgrades which is costing Rs. 40,000/- but transforms the car into a major way.
The complete interior of the car is in beige which includes all: the dashboard, the seats, roof carpet, parcels shelf and door pads. The woods are used very effectively on the dashboard, steering wheel and door. The dual tone appearance has been provided with dark brown colors on the seats and doors of the car. The transformation of the car is very commendable and has been done in such a way that no one will feel it is an after-market job which has done to escalate the sales.
Read More on : Toyota Etios