Tata Motors pavilion at Auto Expo was set up in the Hall no 11 which was shared by its group company Jaguar and Land Rover. Fiat pavilion was also grouped to Tata Motors and Jaguar. The reception of the company was coloured in white while the receptionist were in green saari and blue blouse, it's was something Indian look which Tata seemed to convey. However, the company did not place female models with its car models. On the other hand, Jaguar and Land Rover cars were sparking with foreign beauties. There was a big shortage of Tata cars leaflets as every visitor wanted to have that. The visitors could touch and feel the comfort of Tata cars at Tata Motors pavilion but a few car companies allowed the same till last day of Auto Expo. It was very difficult to meet any Tata Motors senior officials but juniors.
The company set up a launching pad for Tata Aria only. Other new launches were done at the same place where they were displayed. Totally 37 vehicles from Tata and Jaguar, Land Rover were displayed at the Auto Expo. Tata Motors and Tata Sons Chairman, Ratan N Tata unveiled all the new vehicles at the pavilion.

Tata Motors unveiled three vehicles including Tata Venture, Tata Aria and Tata Magic Iris. Jaguar XJ was also unveiled. There were some commercial vehicles displayed which include buses, ambulance, pick-up etc.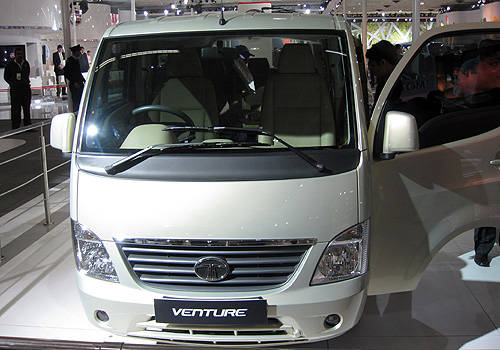 Tata group Chairman Ratan Tata launched Tata Venture at the Auto Expo. Tata Venture is a hatchback sized eight seater MPV (Multi Purpose Vehicle). Tata Venture possesses attributes like power steering, power window, reverse parking aid, rear wipers and key-less entry with immobilizer. Tata Venture is powered by 1.4L turbo diesel engine which produces maximum power of 70 PS.

Tata Venture will be available with seating capacity of 5,6,7 and 8 seats in three rows front facing configuration. The vehicle will launch in June 2010 as per the announcement by the company.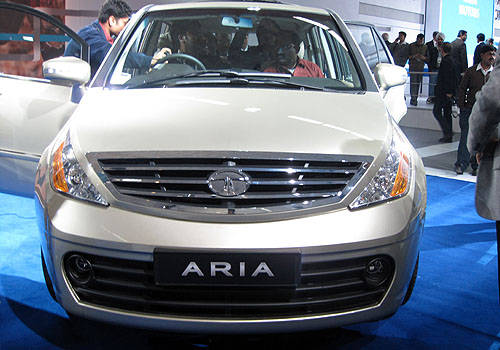 Tata also showcased the all new Tata Aria, a Seven-seater cross-over between MUV and SUV, with the current line-up amongst the same being Tata Safari and Tata Sumo Grande. The vehicle is supposed to be officially launched in the second quarter of 2010. Tata Aria is going to offer three rows of theater style seating in its interiors. With a 2.2L DICOR (Direct Injection Common Rail) diesel engine, Aria is expected to offer Power of 140PS with 320Nm of maximum torque. The soon to be launched SUV-MUV blend offers Dimming roof lamps, dash built-in GPS, Multi functional steering wheel, Dual AC with automatic climate control, Cruise control, six airbags etc.


Tata Motors' yet another invention is Tata Indica Vista Electric that was showcased at the Delhi Auto Expo at Pragati Maidan. The eco friendly car comes with a PERM Magnet Motor, 55 KW of power, 160 Nm torque. The all new Tata Indica Vista electric is a 1 speed FWD and touches a top speed of 128 kmph. It can go from 0 to 30 kmph in just 4.5 seconds, from 0 to 60 kmph in a matter of 9.0 seconds and can run upto 160 km per charge with the battery capacity of 26.5 kwh. The new Tata Indica Vista Electric with a seating capacity of 4 passengers is a five door model that comes with dual front airbags. The electric car will be introduced in selected European nations this year.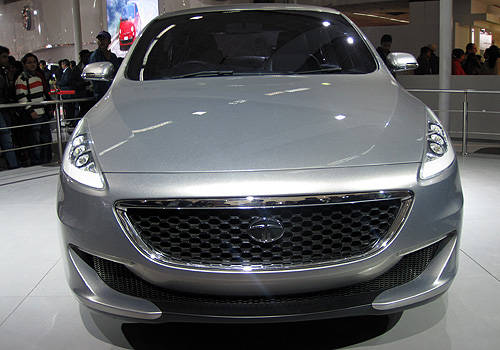 Tata also showcase its concept luxury sedan Tata Prima designed by Pinifarina. The vehicle has refined coupe like silhouette and excellent interior space sure for a luxury sedan. The wheelbase of the car is 2700mm. The length of the car is 4680mm, width 1743mm and height is 1532mm. The product possesses 17 inch alloy wheels and tyre size is 215/45.

Another concept showcased by Tata was Tata Indica Vista Sport. This is developed at the Tata Vista platform. The wheels are designed in a perfect way with eye-catching fog lamps. The bonnet is a classic output of engineers while petal-shaped headlmaps fitted at the both the corner of it. The overall look of the car is sporty and compact in shape. Interiors are having black treatment whereas seats are in black leather.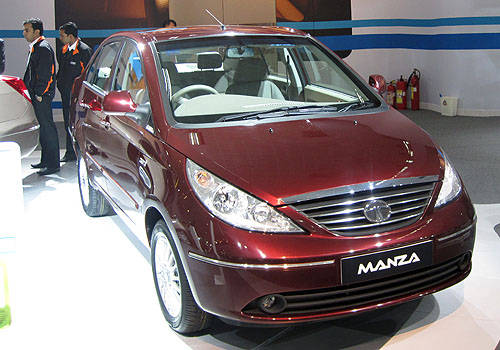 Tata Indigo Manza also got their place at the pavilion in Sardinia red and English pewter. These cars were upgraded for the show. It had fully revamped interiors with leather seats and trims. The overall length was also increased. The length of the car is 4.4m, width is 1.7 m while the wheelbase is 2520mm.

New designed Tata Nano was on display at the Tata Motors pavilion. The displayed Tata Nano was painted specially for females. The cocktail red shade Nano was having flower at the bonnet and door. The floral theme can also be seen at interiors like door pads, seats and the centre console. On the other hand, another Tata Nano model was specially conceived for male only. Being derivatives of the Nano LX, both are air-conditioned and equipped with electronic trip meter, music system, mobile charger point, central locking, tinted glasses, front power windows and fog lamps.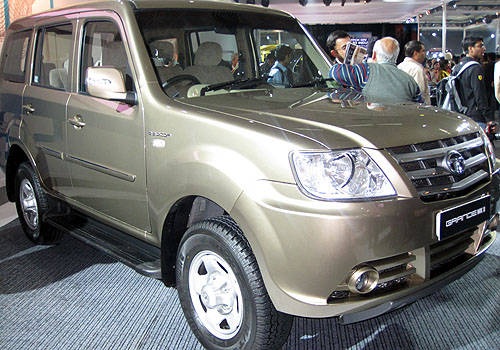 A revamped Tata Sumo Grande MK II was another attraction at the show. The newly launch vehicle sports changes in interiors and exteriors. There was a new cap on the dashboard of the Tata Sumo Grande MK II. Apart from this, the vehicle had a special captain's seat in the second row, new leather upholstery and alloy wheels. The SUV comes loaded with a 2.2 litre DICOR mill that develops maximum power of 120 PS and peak torque of 250 Nm.


2010 model of Tata Safari was also shared the pavilion for the visitors. The new model is BS IV compliant which is going to be commenced from April 2010. The Tata Safari 2010 comes with new and upgraded exteriors and interiors.

Chrome plated ORVMs and grill are new enhancements in the exterior. The vehicle is provided with a dual dark graphite and beige theme with tan-coloured leather upholstery and door inserts.
Read More on : Tata Aria 2013