Audi has reintroduced Q5 with a mid life makeover and the car will be launched at the Paris Motor Show later this year. The mid life refresh has gone down beneath the surface and in addition to design upgrades , the Q5 SUV's engine gets enhanced efficiency and performance. The entry-level model from the luxury car maker Audi, with the 2.0 TDI engine will churn out 4 BHP power more than its predecessor. The other trim of Q5 with the V6 TDi engine gets a miniscule 1 BHP boost in power, but gets a whooping 8 kgm of torque more than the previous model and the acceleration is also improved noticeably.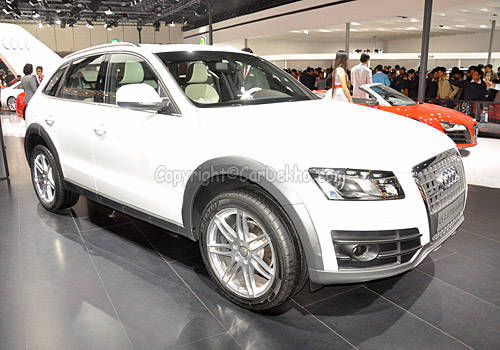 If you were thinking this was too much, check out the 2.0L TFSI engine that has received changes in Valve control and their stroke as well as enhanced thermal management , a retuned fuel injection system with turbocharger and integration of the exhaust manifold in the cylinder face. All these changes have increased the engine's efficiency and the power hasgone up by 10 bhp, to 221 bhp.
On the design arena, the SUV has got refreshed bumpers, new headlights, revamped grille and front bumper is surrounded with chrome surrounds for the fog lamps, a restyled air diffuser has also found its way under the rear bumper and new exhaust pipes. What has gone out of this refreshed SUV is the black side cladding that ran along the edges of the car. Of the top luxury makers in India, Audi has the newest range in India with a few cars lined-up to launch this year. Audi Q3 launch is in vicinity with the facelifted A4 and the Q5 coming at the end of the year.
Read More on : Audi Q5