Hyundai India is going to export its entry level segment car Eon to South Asia and Africa in about a month. Hyundai strategy is to garner sales that will help the dwindling sales figure of the car to rise. As Europe right now is going through a rough time because of the economic slowdown and an ensuing debt crisis, Hyundai Eon demand toppled. Hyundai, apparently used to export half of its production to Europe. However, the economic crunch in Europe has forced Hyundai Motors to look for new markets for its entry level small car Eon.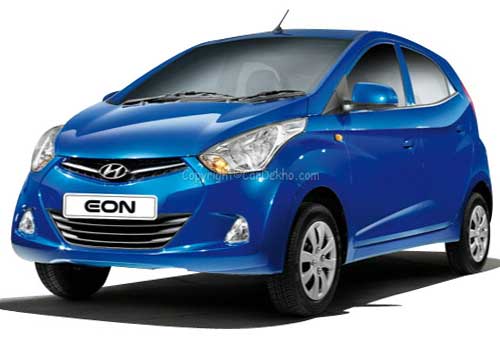 Hyundai Eon price in India is tagged at Rs.2,78,821(starting price), as the price is low Hyundai is expecting that the car will be able to get a hold of the African and South Asian markets as these markets are as price sensitive as the Indian market. The company has not yet come out with a figure they will be exporting of Eon.Hyundai sales director, Mr. Arvind Saxena stated that the company is quite happy with how Eon is doing in the domestic Indian market with managing to clock in sales of about 11,000-12,000 units a month.
The company is hopeful that Hyundai Eon will be able to win the hearts across the two economies they are going to export Eon to, but still it will not be able to recover the toppled overseas sales. Hyundai foresees a fall of nearly 10 percent, figuratively 220,000 units from the previous 242,330. Indian local market is a different story for Eon, with the company expecting to sell about 410,000 units this year, a 10% rise from the last years 373,709 units. Hyundai India produces hatchback Eon, Santro and i10, i20 and in the sedan section Accent, Verna and Sonata. Half of the car the South Korean company produces is exported across the globe like Santro, i10, i20 and Accent. In addition, Hyundai i20 sedan i.e. a sedan based on the i20 hatchback platform is on WIP.
Read More on : Hyundai EON price