Grapevines surrounding the cars from the stable of General Motors are tightening further and sources are suggesting that the Chevrolet Captiva facelift might hit the showrooms as early as next month. The new Chevrolet Captiva will be rendered some dynamic styling which will add to its sports SUV quotient. The hearty SUV goes more attractive and sporty with a refurbished front end that flaunts the bow tie logo and two tier honeycomb grille typical of Chevrolet.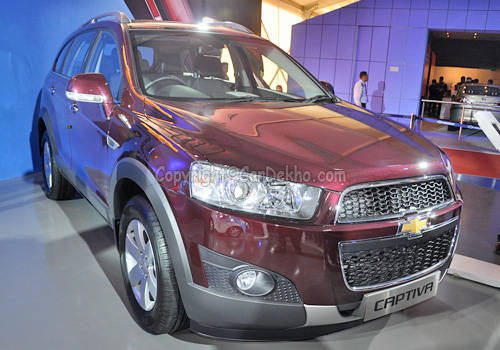 The headlights are graced with a new prism type design and styling, the wheels and the wheel arches have been rendered more bulk for the enhanced SUV feel. The ORVMs sport integrated LED turn indicators and the hood has been re-sculptured sharply. Feeding the sporty attitude of the car is the sleek and rising shoulder line with the handsome A pillars.
The interiors of the 2012 Chevrolet Captiva facelift boast of additional features like an all-new electric park brake in place of the traditional handbrake, two one-liter cup holders, new and sophisticated upholstery fabric with extraordinary finish and a brand new audio system that supports USB, Bluetooth and Aux-in connectivity. All in all the interiors are made more plush and up-market. To imbibe more powerful and bold feel to this sports SUV the engine line-up has been upgraded from the 2.0-liter VCDi I-4 engine to the new 2.2-liter turbocharged diesel engine, which is offered in two variants – one with turbocharger and one without it.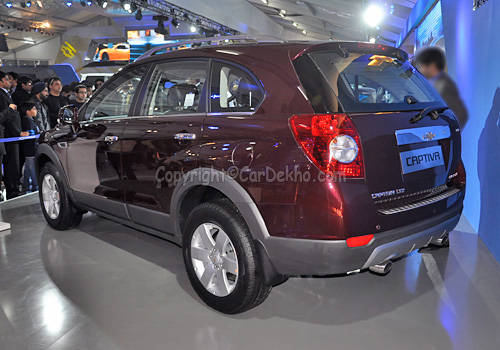 The engine with a turbocharger is capable of pumping out a peak power of 184BHP and a peak torque of 400 Nm whereas the engine without the turbocharger can manage only 163 BHP and 350 Nm of power and torque respectively. With the backing of such powerful engine the refreshed version of Chevrolet Captiva is expected to contend against the Toyota Fortuner and Mahindra XUV 500.
Read More on : Chevrolet Captiva