The much awaited Hyundai Elantra Fluidic is expected to make its first appearance in Indian car market this year itself. The new Elantra will sizzle on Indian roads in second half of 2012. The green signal to this news by was given by Mr. Arvind Saxena, the marketing director of Hyundai India. A number of times, the new Hyundai Elantra Fluidic has been caught during its test runs near NCR or National Capital Region, which had given birth to the speculation of its launch in India. But now being confirmed, the Hyundai car fanatics will surely be delighted with the new car. As far as the price factor is concerned, the new Hyundai Elantra price is likely to be as hefty as Rs. 12 lakh.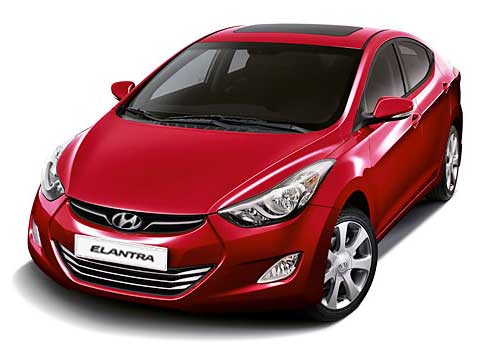 Earlier, Hyundai Elantra didn't perform well in the Indian car market in spite of the fact that it was being offered in both diesel and petrol option. But with the new Hyundai Elantra Fluidic, which was showcased at the 2012 Indian Auto Expo in New Delhi, the car received an awe-inspiring response, which means more sales could be expected as soon as the company launches this premium sedan in the country. The 2012 Hyundai Elantra Fluidic is a complete show stealer and the credit goes to the exquisite fluidic design thinking that actually make it stand out amongst other sedans being offered in the country. Under the hood, Hyundai Elantra Fluidic will be offered in both diesel and petrol options.
The petrol version will come with 1.6 litre of GDI engine, whereas the diesel variant will feature the highly version of the very responsive 1.6 litre of Gamma diesel motor currently been seen on Hyundai Verna Fluidic. The petrol variant will be successful in churning out 140 BHP of peak power with 167 Nm of torque, while the diesel version will generate 140 BHP of maximum power with 300 Nm of torque. The engines will be cleverly coupled with 6 speed automatic and manual transmission. Besides the sound engine, the new Hyundai Elantra Fluidic will be seen bestowed with 6 airbags, ABS with EBD, effective air conditioning system and so on. It will be certainly exciting to see how this premium sedan gives its rivals, such as Toyota Corolla Altis, Chevrolet Cruze, Honda Civic and Volkswagen Jetta a run for their money. Internationally, Hyundai Elantra Fluidic has been a great success and has been successful in beating the tough challenger, Toyota Corolla in sales of 2011. Therefore, a lot is being expected from this premium sedan.